Wisdom Business Academy the longest standing CIMA institute and the undisputed pioneer in successful CIMA coaching has made the perfect blend for the crucial subject in Strategy level – E3.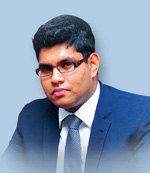 Tharindu Amarasekare
MBCS (UK), MACS (Prov) (Aus), MIEEE (USA) Masters in Project Mgmt (AUS, USQ), BSc (Hons) Computing (UK). CIMA Passed Finalist PQHRM (IPM, SI), PG. Dip BCS (UK)

One is the director if a global Strategy consulting firm with over a decade of experience in Strategy consulting for a global clientele which also includes many Fortune 500 firms. "His experience makes him great at the subject and his ability to apply the experience to case studies and make the students think strategically is simply amazing" says Ms. R.Devadarshani, herself involved in a leading firm of the telecom sector in strategic analysis.
Joining Arj in this session is the leader in the enterprise pillar in Sri Lanka, Tharindu Ameresekere who has been churning out many prize winners along with record pass rates across Enterprise Operations and Enterprise Management.
Renowned for his ability to link theory with the corporate world and also for his exam technique training skills, Tharindu is extremely popular among the students as someone who can be reached by the students for assistance at anytime. "Tharindu sir knows the enterprise pillar in-out and his knowledge in both syllabus content and exam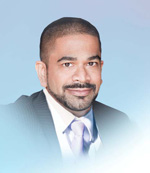 Arj Wignaraja MBA, BA(Hons)Econ
technique and the way he does exam preparation is really helpful. He knows to look and understand the student's and their challenges in writing for the exam, from the actual student situation. He understands us very well" was the comment from Ms. Dulani Samarajeewa, herself a busy working executive yet finds the style of teaching and student preparation at Wisdom enterprise pillar an extremely effective one.
Tharindu himself is formerly from the strategy consulting field while currently he is an entrepreneur and a brand consultant although as he always says, "teaching is his passion and life's mission".
Maximum Question Coverage
Arj and Tharindu plans to carry out the most extensive question coverage for the students from this upcoming session. Tharindu, whose key responsibility will be the coverage of questions and preparation for the common case study says "There will be a mix of both Questions from the Study text, self developed questions Past papers that will be utilized. 100% past paper coverage is a necessity for success. It is a simple formula, the more questions you do continuously, high probability you would have of passing". His expertise in preparing students for questions would be vital assets to all students of Wisdom at Strategy level.
Common Case Study Preparation
Students have to face a common case study based on which they would be tested at the final examination. Looking at it it's vital to guide students to apply the theory knowledge learnt and also sharpen their skills on possible issues they could b tested at the exam. This preparation involves both improvements in the fronts of analysis using theory models as well as industry research.
Focus Groups
As students go to higher levels, it becomes increasingly vital that individual attention needs to be given to students. The Arj and Tharindu plan involves an organized structure to guide the students individually and assist them with their difficulties and issues and a direct and systematic manner. Arj and Tharindu both confirms "utmost individual attention is what we guarantee".
So if you are doing E3 this November 2012, your choice for ES is indeed clear. Arj and Tharindu is no doubt the perfect blend for this subject which prepares to the top seats of an organization. And given their commitments and efforts, there is no way you could go wrong if you are a part of their blue ocean strategy.