Making spaces to suit businesses, individuals, governments and public masses is a science that requires extensive knowledge and training. Bringing in good aesthetics into these spacesis a skill developed through correct education in interior design. ChathuriKannagara is a young interior designer who qualified with international level interior design degree education from AOD. Today, Chathuri leads a successful career at DDN design – one of Sri Lanka's top interior design firms directed by renowned Interior Designer and Architect Dipika Dharmadasa.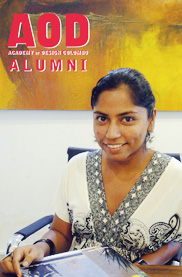 Chathuri Kannangara at DDN Interiors
Chathuri says that her professional experience at DDN has been nothing short of exhilarating; "from day one it has been a great learning process.
At DDNI got experience in schematic design work, coordination amongst contractors and suppliers, communication with project teams and field work at site. The training and the exposure at DDN Design under the supervision of Architect Dipika, is an amazing learning experience!" Currently Chathuri is working on a massive design project for a holiday home in Victoria Golf Digana- a project that has given her the creative freedom to explore contemporary Sri Lankan interior styles.
Chathuri says that her Interior Design degree at AOD was an exceptionally well-rounded one that helped her achieve a successful career; "from international design approach in using colour and light, handling spaceto communication skills, planning, time management, sharing knowledge and respecting others' opinions AOD taught me everything I needed to start off as an interior designer."
She adds that AOD is a platform to promote freedom of design with an "Out of the Box" approach to the field eliminating traditional methods and theories that Sri Lanka has seen for years. Chathuri also thanks the
interior design faculty at AOD, comprised of local and international experts; "Teachers at AOD recognize your talent and help you to expand your skills and bring out the best in you."
AOD principal British designer Karen MacLeod said; "We teach our interior design students to connectlocal and international architecture and interior design while continuing a relationship with their culture to establish aglobally relevant new Sri Lankan architectural style. I see Chathuri doing this at DDN, and we're extremely proud of her."
AOD provides world renowned design degrees in fashion, fashion marketing, interior design, graphic design, motion graphics & animation along with certificate education in jewellery design and photography. For more information contact AOD on 11 5867772/3 or visit www.aod.lk, www.facebook/AODSrilanka