Special project to assist lesser privileged children of Bodowitta Presentation of Certificates to 11 young students who successfully completed the F&B service course was held at the Asha Trust Foundation premises in mt Lavinia, last week, officiated by the Mayor of Dehiwala - Mt Lavinia - Hon Danasiri Amarathunge, along with Harpo Gooneratne MD of the hotel school, Hiran Serasinghe, Consultant, Asoka Jayewardene Director of the school and other executives.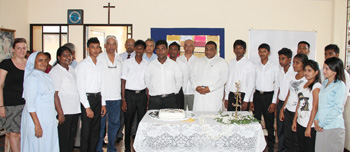 11 young people from the Bodowitta area of Colombo received their certificate in Food and Beverage service after completing a 3 month course that comprised of theory and practical training in this area.
The training was organised by Harpo school of Hospitality and Tourism Management and Asha Foundation, led by sister Concepta, in order for young people living within the Bodowitta area to gain training within the hospitality industry, so that they are able to secure sustainable jobs. The Asha foundation works within a deprived area in Colombo and many of these young people would not normally be able to participate in this type of training due to the cost.
After completing one month of theory training, the trainees were placed in reputable hotels in the Colombo area in order to put their knowledge into practice. The hotels who took part in the scheme have given positive feedback on the trainees who have been able to gain an in-depth knowledge of hospitality and learn about all aspects of the industry including customer care, food and beverage service and health and safety.
The two organisations have worked in partnership to provide them this opportunity, but it is the trainees' hard work which has made this project a success. Harpo School of Hospitality and Management and Asha Foundation are now planning training for a second cohort of students.
Harpo school of Hospitality and Tourism Management in association with Princeton Institute of Education in Melbourne Australia is also now offering Diploma courses in Hospitality . Princeton Institute of Education is a private Registered Training Organization (RTO) in suburban Melbourne providing quality education in Hospitality, Business and English programmes which are nationally recognized under the Australian Qualification Framework.