91 days will teach you a lot about a country. Since they moved here in early February, Jürgen Horn and Michael Powell have found that the quickest way to gather a group of Sri Lankans is to get into a car wreck. They've become addicted to kottu and thambili, learnt that baby elephants sometimes like to be hugged and discovered that riding second class on a train doesn't take away from the glorious views. They know that the 3-toothed tout they call 'The Professor' will make them the same offer every day and that the Peradeniya Botanical Gardens is worth every bit of the $10 entry fee. Deciding that the Sinhala script is easily one of the most beautiful in the world Mike has even learnt to write 'head,' 'crooked,' 'bones,' 'eye' and 'bait' in Sinhala. Enough, he says, to make a good start 'towards a strange, sinister sentence.'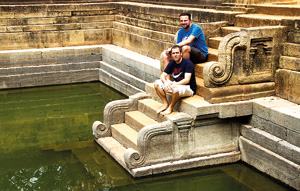 The travelling duo
The 91 days are nearly up and right now Jürgen and Mike are in Arugam Bay from where they respond to my questions over email. They've travelled widely and have spent time in Colombo, Kandy, Anuradhapura, Jaffna, Trincomalee and Delft and will have also visited Ella, Tangalle, Kataragama and Galle before they're through. Their packed itinerary re-confirms their description of themselves as 'born wanderers,' who love 'traveling and learning about new cultures.' They chronicle their adventures, posting Jürgen's beautiful pictures and Mike's informative, entertaining writing on their blog (in this case http://srilanka.for91days.com/). Recently, they've also begun compiling these into ebooks now for sale on Amazon.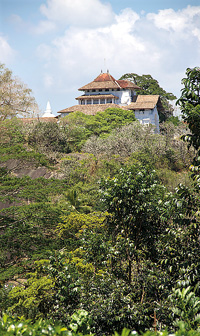 Temple loop
The two men first met in Boston Massachusetts, where Jürgen was working as an au pair, learning English and going to the New England School of Photography. Mike was then at a small software firm in Cambridge. They discovered a shared restlessness and the two would eventually move to Germany, settling in Berlin. Later, when Mike was 'downsized' it seemed almost a blessing in disguise. By choosing to work independently, they found they now had the time to begin traveling in earnest. "
They spent 18 months in Western Ireland, and then a few years in Valencia, Spain. "One day, when we started feeling restless, we had the idea to just continually move, every three months. We put our stuff into storage (in Valencia, which is still our home base), and took off!" says Jürgen.
They've since been to Oviedo, in northern Spain, Savannah, Georgia (a trip timed perfectly to match the arrival of Mike's brother's new baby), Buenos Aires, Bolivia (which was the first time they attempted covering a whole country in a single trip), and finally Palermo, the biggest city on the Italian island of Sicily, where they "ate way too much pizza and pasta" before arriving in Sri Lanka. All they required of each port of call was that it had an internet connection, so that they could continue working on projects that actually paid the bills.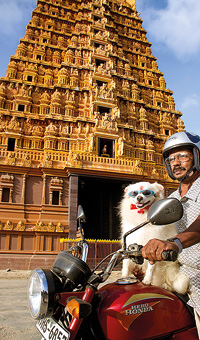 Jaffna
The plan for the 91 days was to immerse themselves in a country – to settle into the rhythms of local life, as Jürgen puts it. He compares it to a passionate three-month love affair. "We've always loved travelling, and have done a lot of it," he explains, adding later "More than just sight-seeing, we're interested in learning about the world." They've published over 500 posts so far and Jürgen shares some of his favourites: "Oviedo - the incredible Ruta del Cares hike. Savannah - The haunting, gothic Bonaventure Cemetery. Buenos Aires - The Palacio Barolo, which is an architectural ode to Dante. Bolivia - I've never laughed harder than I did at the Cholita Lucha Libre. Palermo - The Capuchin Catacombs were one of the most seriously scary things I've ever seen."
Of course, their travels are not without complications. Expenses are variable, unpredictable and pile up relentlessly. "We tend to put a lot on our credit cards before each move, and then pay it off over the course of our 91 days. So far, we're getting by, but finances play a big role in choosing our next spots - I don't think we'll be doing 91 days in Paris anytime soon," says Jürgen ruefully. Once at their destination, they live relatively frugal lives. Frequenting restaurants where locals eat, avoiding hotel stays and splurging on expensive excursions rather infrequently. Always strangers in a strange land, they will occasionally find themselves pining for home. "My niece is five now, and it makes me sad that every time I see her, she's a year older!" Jürgen says.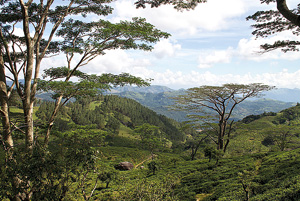 The Knuckles range. Pix by Jürgen Horn
This trip is also conspicuous in that the third member of what was once a trio is missing. Jürgen describes Chucky, their French bulldog as "a real world traveller." She accompanied them from Germany, to Ireland, Spain, the USA and even Argentina. "Shortly after her 10th birthday, she developed a fast-growing lung cancer and we had to say goodbye in January of this year. I like to think that she enjoyed the travel -- but honestly, she probably hated it. But she was always a trooper."
Certainly, Chucky would not have enjoyed the trek up to Sigiriya which Jürgen lists among the most incredible things he's ever seen. More off the beaten track, they loved the Three-Temple Loop near Kandy (a hike linking Embekke, Lankathilake, Gadaladeniya) and the Knuckles Range. Other less well-known favourites were Ritigala, the Keerimalai Temple in Jaffna, and Pidurungala Rock, nearby Sigiriya. Less pleasant was the discovery that hotels and big tourist draws, such as Sigiriya or Polonnaruwa were outrageously priced - far, far more expensive than anything comparable in Europe or the US, according to Jürgen.
"Transportation has also proved a big challenge. We travel with a lot of stuff, and packing onto a bus is always a headache - especially since I'm two metres (6'6") in height!" Though they're frank with their criticisms, they're equally lavish with their praise. "Every spot we've visited in this country has had some amazing natural feature. Sigiriya's rock, the islands of Jaffna, the hills of Kandy, the beaches of Trinco. All in a country the size of West Virginia! It's incredible."
Next up on their grand world tour is three months in Busan, South Korea. To read their blog is to live vicariously through them, and they're fun, adventurous companions on the road. But if you should ever want to attempt the same, Jürgen shares a bit of practical advice. "Travel can be scary, that's for sure," he says, suggesting that booking tickets months in advance and doing plenty of research can help you overcome your initial reservations until, finally by the day of your departure you're just itching to get going. "Once you've arrived, you'll usually find out that the fear was for nothing. I was nervous before we went to Bolivia but realized immediately after arriving, that it was just another country, filled with friendly people going happily about their lives," he says. "In truth, every country is like that."