The estimated numbers are an eye-opener indicating that urgent and multi-pronged action is needed right now, as autism careens towards epidemic proportions in Sri Lanka like in the rest of the world.
One in 93 children in the age-group 0-3 years may have Autism Spectrum Disorder (ASD), a survey in a semi-urban area in the Colombo district has shown, clearly pointing not only to the enormity of the problem but also to the need for the country to face this health time-bomb with the right measures.
The situation with regard to autism and the action needed were discussed at length at a Symposium to mark 'World Autism Awareness Day' on April 2 at the Sri Lanka Medical Association auditorium, Colombo 7.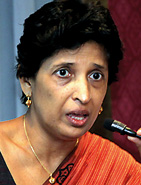 Prof. Asvini Fernando. Pix by M.A. Pushpa Kumara
The symposium organized by the Sri Lanka College of Paediatricians under President Prof. Asvini Fernando in collaboration with the World Health Organization also came up with a vital road map (see box). The symposium was chaired by Consultant Paediatrician Dr. B.J.C. Perera.
Explaining that the Paediatrician is the "gate-keeper", Consultant Child Psychiatrist Prof. Hemamali Perera stressed that along with the parents, the earlier the diagnosis and intervention, the better the outcome.
With much experience at hand, for Prof. Perera has an autism programme at the Lady Ridgeway Hospital for Children that follows 275 in the age group 18 months (1½ years) to four years from all over the country including many from the Western Province, she regretted the fact that "lots of others come late. We don't turn them away, but the outcomes may not be as good as when they are younger".
It is a study by her team that has come up with the figure of 1 in 93 children being autistic, while she points out that autism may be more prevalent in urban areas than rural, with more boys being vulnerable than girls.
Highlighting the fact that autism prevalence is rising with the "scary part" being that the reason why has not been ascertained yet, Prof. Perera urges parents to seek help if their child has delayed speech or even regression in his speech.
In about 85%, delayed speech and language is a sign that something is amiss while in others who start talking like a normally developing child there could be regression. Don't wait, she urges, even though the delay may be due to other reasons. "You just cannot take that chance, for you are losing valuable time."
Usually by one year, a child will say "Ammi" and "Thaththi", after which there is a rapid gathering of vocabulary. But if the child falls within the autism spectrum there would only be repetition of words without a function and even resorting to jargon, the Sunday Times learns.
Premature children and those with neo-natal jaundice seem to be more vulnerable to autism, says Prof. Perera giving the red-flag signals parents should act on immediately……..the child will make no eye-contact; will play with a solitary object even though there may be many toys around and even in that object will focus only on one part rather than the whole; will not like to be hugged; will display extreme distress; will not ask for help; will be aggressive towards other children; and if made to sit in an environment not conducive to him will become hyperactive.
"The child may take your hand and drag you to a place but won't look at you as a whole person but only at your hand," she says, explaining that it's classic of autism – interest only in a part and not in the whole.
A child with autism is in a world of his own and prefers to be alone, it is understood.
Referring to the autism spectrum, Prof. Perera says at one end is the withdrawn autistic child who has intellectual impairment while at the other end is the child with high IQ and savant skills in a specific area such as art, music or even math.
Genetics has been identified as a cause but does not explain all the numbers. Autism may also be caused due to environmental factors, both in the womb such as the medications that the mother is taking or infections the mother suffers as well as the wider environment in which the mother is exposed to pollutants including toxic fumes, she adds.
A mother who was a "pioneer" in attempts to bring about interventions for autistic children when it was still a non-subject in Sri Lanka, Dr. Anoma Jayathilaka spoke about the dilemma parents are faced with – where do you start?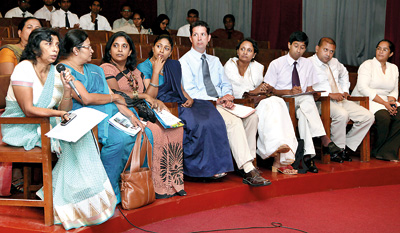 The speakers at the symposium
Recalling her state of mind when her little daughter was diagnosed with autism many years ago, she said there is shock, anger, fear, resentment, worry, guilt, screaming, profound sadness on the part of the parents and only finally acceptance.
While stressing that parent support groups are essential not only to meet, discuss and interact but also to cry on each other's shoulders and heal with time, she too reiterates that early diagnosis is important. "Early diagnosis at least by 18 months brings about better outcomes because early intensive behavioural intervention helps."
There must be adequate counselling for parents to understand the condition and accept it and then start appropriate early intervention. There should be a scientifically designed autistic-specific education package which can be adapted to meet individual needs, said Dr. Jayathilaka, referring to the all-important multidisciplinary approach which deals with school and vocational training, integrated employment, residential facilities, secure future, protection from child abuse, social security system and support for parents.
"It's a national emergency," she pleaded, "the need being a rights-based approach and not a faith-based one." With Consultant Paediatrician Dr. Samanmali Sumanasena advising clinicians to "listen to the parents" for they are the key to success in whatever interventions are undertaken, Education Psychologist Tamara Handy pointed out the importance of at least partial inclusion for these children in the education system along with modifications to the curricula to suit their needs and para-educators to help them.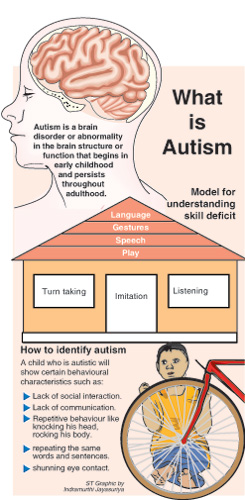 Consultant Community Physician Dr. Neil Thalagala of the Family Health Bureau dwelt on the National Programme; Consultant Paediatric Neurologist Dr. Anuruddha Padeniya focused on the link between neurology and autism and Occupational Therapist William Roberts of the NGO, Child Vision, who works in Puttalam explained in detail how occupational therapy comes in handy as an intervention in ASD.
Children with autism have difficulties with social communication, said Speech and Language Therapist Ianthe Perera, defining social communication between the child and others as the sending, receiving and understanding of messages through verbal and non-verbal means.
In varied settings, the home, school and clinic, speech therapists should work with occupational therapists and other members of the multidisciplinary team for the benefit of children with autism.
With more people having access to speech and language therapy degrees within Sri Lanka, it is a positive development towards early intervention in ASD, added Ms. Perera.
The Road Map
The road map while calling for multi-sectoral management of children with autism through a community and family based approach includes suggestions for district-based centres for early screening and monitoring; the appointment of Community Paediatricians; and the training of occupational therapists and psychologists to be employed in the education system.
Strengthening the National Programme for Child Development and Special Needs is a priority, the road map reiterated, and once early diagnosis is made, children with autism should be referred to early intervention centres (EIC) which need to be set up at the community level. The interventions should primarily be parent mediated. At the EICs, a group of therapists should initiate autism interventions with the participation of the parent/caregiver.
Under the road map, advocacy would be targeted at:
Health Ministry – for the development of early intervention centres in the community, the appointment of Community Paediatricians and the employment of more speech therapists and occupational therapists.
Education Ministry - to increase the cadres of specially-trained teachers and appoint speech therapists to schools. So far speech therapists are only in the health sector.
Social Services and Child Development and Women's Affairs Ministries – to develop pre-schools with the ability to provide services for pre-school children with autism.
Finance Ministry – for extra funding for community-based centres and school-based programmes.