Indonesia is preparing to ban the mini-skirt under its tough anti-pornography laws 'because they make men do things'. The Muslim country's powerful religious affairs minister said that one of the considerations in its review of what could be considered pornographic would be 'when someone wears a skirt above the knee'.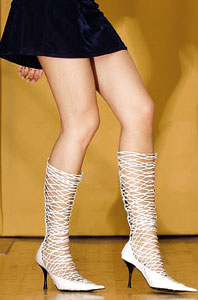 Backward step: Indonesia is preparing to ban the mini-skirt under its tough anti-pornography laws 'because they make men do things'
Minister Suryadharma Ali started a war against the mini-skirt almost as soon as he was appointed to run Indonesia's new anti-porn task force earlier this month. Parliamentary speaker Marzuki Alle also recently hit out against the mini-skirt, but he targeted female politicians who chose to wear skirts above the knee.
Mr Alle said he was preparing draft rules banning female politicians and staff members from wearing mini-skirts because 'there have been a lot of rape cases and other immoral acts recently and this is because women aren't wearing appropriate clothes'.
He added: 'You know what men are like - provocative clothing will make them do things.' President Susilo Bambang Yudhoyono set up the anti-pornography task force in an attempt to remove it entirely from the country, the world's largest Muslim nation, making up 12 per cent of the world's Islamic population.
Despite their religious and cultural following, many young women look to the West for the style of clothes they wear. The mini-skirt is everywhere in Jakarta's nightclubs. Minister Suryadharma said that before the government decided on what aspects of life could be considered as pornographic, the task force would consult numerous people.
But he told the Jakarta Post that one style of clothing that would be targeted would be the mini-skirt.
He said: 'Once a standard of pornography is established, the task force will apply it nationwide across all ethnicities.'
To many observers the ban on short skirts is a curious government response to allegations of corruption among politicians and demonstrations by thousands complaining about a rise in fuel prices and the cost of living.
Mr Suryadharma is no stranger to controversy. Earlier this year, the country's Corruption Eradication Commission questioned the whereabouts of millions of pounds in interest earned on deposits paid by pilgrims to the Minister's department to join the waiting list for a trip to Mecca.
Daily Mail, London