TOKYO, March 31 (Reuters) Japanese Prime Minister Yoshihiko Noda frequently entertains dignitaries from all over the world, but he was a touch star-struck on Thursday when he hosted a young billionaire with a whiff of celebrity: Facebook chief executive Mark Zuckerberg.
As cabinet ministers filed through Noda's residence for a late afternoon meeting, it was Zuckerberg who drew a fusillade of camera flashes from a hefty media contingent as he strode through the entrance like a movie star.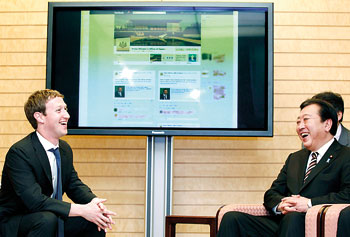 Facebook CEO Mark Zuckerberg (L) shares a light hearted moment with Japanese Prime Minister Yoshihiko Noda as they meet at the latter's official residence in Tokyo (Reuters)
"It's a funny feeling to see you here because I watched the film," Noda told Zuckerberg, referring to "The Social Network" - which did not portray the Facebook co-founder in the most flattering aspect.
"Very different," laughed the 27-year-old, dressed smartly for the occasion in a grey suit and blue tie.
Noda thanked Zuckerberg for the contribution social media made to communication after last year's earthquake and tsunami, while Zuckerberg emphasised Facebook's commitment to Japan, where the company has enjoyed a recent surge in users.
"Japan's the only country in the world outside the U.S. where we have an engineering office because we're really committed to making a really good product here," Zuckerberg said. Zuckerberg, who was reportedly on vacation in China before swinging by Japan, was set to make an appearance at Mobile Hack Tokyo, an event for mobile developers to meet with Facebook's developer relations team.
Facebook got off to a slow start after it founded its Japanese-language service nearly four years ago, lagging domestic rivals like Mixi where users in privacy-minded Japan log on under an alias, or "handle name."
But it has doubled the number of its users in Japan after last year's disaster, appealing to people who want to keep in touch with loved ones as well as those seeking a more international reach.
In February, Facebook launched a "Disaster Message Board" in Japan that enables people to easily let each other know how they are during emergencies, and to search for friends. Facebook may consider rolling out the service in other countries.
Facebook, the world's No.1 social networking service with more than 845 million users, plans to raise $5 billion in an offering in May that could value the company at up to $100 billion.