These incredible creations left fashionistas harbouring a sweet tooth - as everything from the ballerina skirt to the hats and jewellery have been made out of chocolate.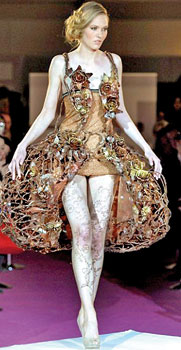 Delicate: This model wore just a simple tunic with an intricate chocolate design of wild flowers resting over it
Salon du Chocolat has become world-renowned for its sumptuous couture creations after launching shows in New York, Tokyo and Paris.
And this latest offering in Zurich didn't disappoint as the designs appeared to take inspiration from last year's hit film black swan for some of its mouth watering creations.
The three day Zurich Chocolate Show, features unique creations by chocolatiers, pastry chefs and chefs from Switzerland and all over the world.
Apart from catwalk displays, there are also conferences, demonstration of recipes, pastry courses, children's workshops and exhibitions during the event.
The Salon du Chocolat took place in Paris for the first time in 1994 and has since branched out to 20 cities around the world, including New York, Tokyo, and Moscow.
Sylvie Douce, the Salon's founder, said: 'We want to show that chocolatiers are just as worthy of the stage as fashion designers.
'Daily Mail, London