There was a time when stitching and embroidery was a popular pastime for housewives. Such skills have been lost in today's busy lifestyle but Samanthi Gamage combines her love of nature with her talent for embroidery to take this hobby to a different level.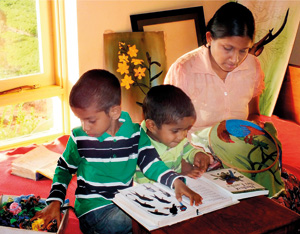 Samanthi works on a Blue Magpie with her little assistants Sakuna and Vihanga
Husband Rajika Gamage who has published 'An Illustrated Guide of Butterflies of Sri Lanka' in 2007 has inspired Samanthi to focus on nature. In fact it was at her husband's book launch in 2007 that the idea was first born. Rajika's book had been also presented to their little son Sakuna and Samanthi had stitched a beautiful 'Crimson Rose' butterfly on her son's dress for the occasion.
Both husband and wife are keen birdwatchers, so birds took pride of place in Samanthi's initial work. Her first needle painting exhibition "Siyoth Ru" was held in 2009 at the Lionel Wendt Gallery, where she had 43 pieces featuring birds. Another exhibition at St. Andrew's Hotel at Nuwara Eliya followed and now 'Siyoth Ru II' will be held at the Lionel Wendt Gallery on March 31 and April 1.
Samanthi works mainly on 'Amu redi' and first makes a sketch of the picture and background. If it is a bird like the endemic White-eye that inhabits the hill country, then the background would be a place like Horton Plains. Husband Rajika who is also a good artist, helps her with the sketch, says Samanthi highlighting that it is a family effort with sons Sakuna and Vihanga, both incidentally named after birds, helping her choose the thread.
Needle painting also known as thread painting or painting with a needle, is a hand embroidery technique blending long and short stitches to create realistic images on cloth. These long and short stitches are worked in rows in a range of shades to closely represent the animal or flower that is being worked.
"This technique of needle painting needs practice and patience. It was cumbersome initially, but practice makes it easier," says Samanthi.
Matching the thread is the most difficult task. "Finding the right colours is difficult in Nuwara Eliya which is the closest town to where we live. So I buy different colours of threads wherever I can. But all these hassles are forgotten once I see the beauty of the final product," she says enthusiastically. This time the exhibition will showcase 55 needle paintings of butterflies, orchids, birds and mammals.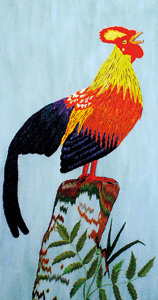 Sri Lanka Jungle fowl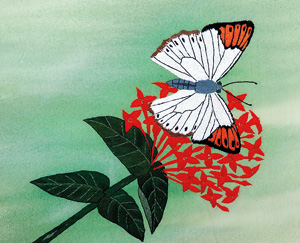 Great Orange Tip