'Randy old hippo' John Sabagedara is finally about to get a taste of his own medicine. This time he has gone too far.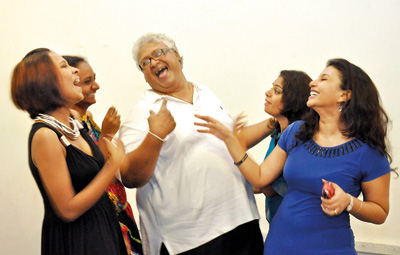 Koluu playing Girly, surrounded by the merry wives
Tammy Kahapituwa and Madhu Alewathura, married friends who are both outraged to discover they are being courted by the same man, this 'vile and repulsive' politician Sabagedara, hatch a plan to bring about his timely retribution.
Aided by Sabagedara's morally uptight assistant Bandhu and their happy-go-lucky friend Sandra, they must overcome society gossip Upeksha's vitriolic tongue and Madhu's possessive husband Rajiv's jealousy, to knock some sense into the gold-digging politician. So unfolds the 'Merry Wives of Colombo', a truly Sri Lankan deviation of Shakespeare's 'Merry Wives of Windsor'.
The Elizabethan play, what playwright and director Indu Dharamasena calls Shakespeare's only farcical comedy, was chosen for its easy adaptability to the modern stage. The play is Indu's third 'localized' adaptation of Shakespeare- he did Irada Handada (loosely based on Taming of the Shrew) in the early 70's, a play he laughingly admits to choosing so he could use one particular line regarding land dowries, a current issue during that era of the closed economy. In the 2000's he did Tharuna Kale Ohoma Thamai, adapted from The Two Gentlemen of Verona.
Shakespeare is close to Indu's theatrical heart- it was a love affair that began during his university years in London, when he would sneak in Drama lectures during a demanding schedule of Mathematics and Economics!
Indu is a firm believer in the Bard's work. "Shakespeare's plays are timeless. It's relevant to any age, and that's the beauty of it." He goes on to point out that the playwright never focused on time periods in his plays-"they've always been about people. How they feel, how they act. And while those characters might talk and dress differently, the basics of it remain the same. Love, hatred, jealousy - they're all in there. His plays can be transported into the future."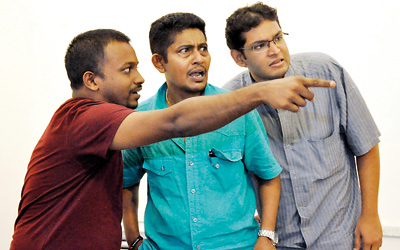 Close to his heart: This is Indu's (centre) third localized adaptation of Shakespeare.
Indu took it upon himself to translate the play from Elizabethan intricacies into 21st century Colombo, branding it with his own personal (and often hilarious) touch. He knows that comedy is what makes Colombo's audience tick. "If I go to watch a play, I want to come out feeling happy. And comedy can give you that. I've never been a writer-you don't see me writing novels. I've always been more of an entertainer. The plays I write, they're all dialogue. And they're always things that you would hear any normal person saying. You can relate to it."
Indeed, the play's characters resemble euphemistic versions of society's real dons, from scheming Sabagedara himself to the troublemaking gossip-monger Upeksha, right down to Madhu's overly possessive husband Rajiv.
Tammy (Sanjana Selvarajah), Madhu (Sanwada) and Sandra (Niroshi) plot to Sabagedara and his scheming, gold-digging ways a taste of his own medicine, while Bandhu (Gehan Cooray) battles his scruples to help them.
Upeksha (Trinushka Perera) flits from one side to another, spreading rumours and causing mayhem but trying to fit in at the same time, while Rajiv (Indu) slowly works himself up into a tizzy about his wife's supposed infidelity. Tammy's huband Nigel (Abbasali Rozais) is coolly unconcerned, choosing to have faith in his wife's character but helping Rajiv out with his plans to catch Madhu all the same, out of a misplaced (or well-placed depending on your point of view) sense of loyalty.
They are joined by their hypochondriac friend Mahesh (Anoop Kapukotuwa). Wiggling his eyebrows and dishing out the 'laydees charm' throughout it all is John Sabagedara (Stefan Raymond), hoping to rip off some of their husband's wealth from the ladies. As he kindly explains to the too-innocent-for-politics Bandhu, "When I lose one source of income I will find another". Stefan laughs as he sums up his character for us. "I do anything that swishes!"
The play is enlivened by Koluu, who joins the cast in drag as 'Girly', Colombo's 'It Girl' socialite and restaurant owner. It is more of an embodiment of his real life persona than a character, and Girly plays a vital role throughout the story, in the form of hosting the parties in which most of the trouble eventually ensues. As Indu points out, there are no major or minor roles in the play. "Everyone plays an important character, so there's that invaluable contribution from pretty much every member of the cast."
The play is reprised from its last time on stage; back in 2003. Indu explains that there are no changes to plot, except for the dialogue being updated to fit the times.
Tickets for the play are now available at the Lionel Wendt, where the Merry Wives of Colombo' will take to the stage on March 30 and 31 and April 1, at 7.30 p.m. Proceeds from the event will go to the Rotary Club of Colombo Metropolitan, who have organized the March 30 showing exclusively for HSBC customers (for reservations please contact HSBC).