TRIPOLI, March 17 (Reuters) Abdullah al-Senussi inspired fear and hatred among ordinary Libyans for decades as the intelligence chief, right-hand man and brother-in-law of Muammar Gaddafi before the Libyan dictator's fall to a popular insurrection in August.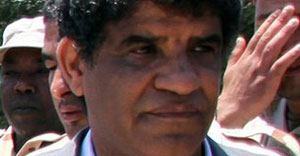 Abdullah al-Senussi was arrested at the Nouakchott airport in Mauritania
After months of speculation about his whereabouts, Mauritanian authorities arrested Senussi as he arrived at Nouakchott airport from Casablanca in Morocco, bearing a falsified Malian passport, Libyan officials said.
The International Criminal Court in The Hague indicted Senussi along with Gaddafi and his son Saif al-Islam last year for war crimes, citing armed attacks on civilians in anti-Gaddafi regions after the onset of the uprising in February 2011. Mauritania has not signed the Rome Statute governing the ICC and authorties were not immediately available to comment on what they planned to do with Senussi.
Soon after the revolt blew up, media reports said that Senussi had joined then-foreign minister Moussa Koussa in defecting. The reports were later denied.
A U.S. national security official said U.S. government agencies were aware that Senussi and Saif al-Islam had been involved in making some early peace overtures to rebels but they were rejected.
Senussi built up a reputation as the brutal enforcer of Gaddafi's will when he was the chief of internal security during a deadly purge of regime opponents in the early 1980s.
Many Libyans also held Senussi responsible for the 1996 killing of some 1,200 inmates at Tripoli's Abu Salim prison. He was one of several Libyan officials who were convicted, in absentia, in a French court in 1999, over the bombing of a French airliner.
The plane came down in Niger the previous year, killing all 170 people on board. A leaked U.S. embassy cable from 2008 described Senussi, married to a sister of Gaddafi's wife, as playing a "significant role" as an adviser to Saif al-Islam Gaddafi.