He made headlines recently after it was revealed that he had a brief fling with Lindsay Lohan, but Terry Richardson is a star of the fashion photography world in his own right. And if you want an idea of the standard of the iconic snapper's work, other than those shoots with Lohan, 25, then look no further than this beautiful spread in the U.S. edition of Harper's Bazaar.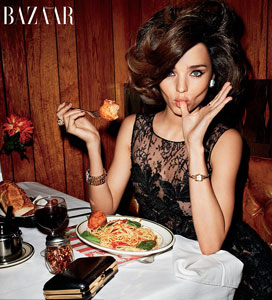 Flirty fifties: Miranda Kerr looks sensational in this shoot for the April edition of Harper's Bazaar
Admittedly, 46-year-old Richardson had a head start with this sitting in the form of impossibly beautiful Victoria's Secret model, Miranda Kerr. The Australian, who is married to British actor Orlando Bloom, 35, donned a range of high-end daywear for the pictures.
The piece was entitled Flirty Fifties and was shot in Brooklyn, New York. The shots channel a style made internationally famous by former First Lady Jackie Kennedy, later Jackie O. One in particular echoes her style and is taken with a black and white lens, seemingly to exacerbate this effect.
In it, Miranda wears Jackie's trademark black shift and a string of pearls. In another she eats spaghetti in an era appropriate restaurant, licking her finger daintily as the tomato sauce threatens to smear her exquisite black lace dress.
In another, she poses intimately with the camera on a busy Brooklyn street. Miranda has just been in Paris, where Miranda graced the catwalk for a variety of shows, including French fashion house Chanel.
Kerr was the epitome of high fashion walking the runway for the Ready-to-wear Fall/Winter 2012 show in a long coat, fingerless gloves and sporting some crystal-encrusted eyebrows.
She was accompanied to Paris by husband Bloom and baby Flynn.
© Daily Mail, London