WASHINGTON, March 17 (Reuters) The U.S. Army identified the soldier implicated in the massacre of 16 villagers in Afghanistan this week as Staff Sergeant Robert Bales, and said he arrived at a Kansas base where he will be held in a solitary cell.
Bales, a four-tour veteran, is suspected of walking off his base in southern Afghanistan on Sunday and gunning down the 16 civilians, including nine children and three women, in a massacre that sent American-Afghan relations into a tailspin.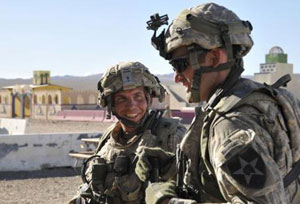 Staff Sgt. Robert Bales, left, is seen during an exercise at the National Training Center in Fort Irwin, California, in this 2011 handout photo. (REUTERS)
"The Army confirms that Staff Sergeant Robert Bales was transferred to Fort Leavenworth, Kansas. Bales is being held in pre-trial confinement," the Army said in a statement. The 38-year-old soldier, whose military unit is based south of Tacoma, Washington, had been held in Kuwait after he was flown out of Afghanistan on Wednesday. Bales has not yet been charged."I would assume he'll be charged pretty fast," said Jeffrey Lustick, a defense attorney and former Air Force military prosecutor and defense attorney in Bellingham, Washington.
Bales is expected to face justice under U.S. military rules, but it is not clear where any trial would take place. Photos of a soldier identified as Bales, wearing camouflage and battle gear, appeared in an article about training for soldiers headed for Afghanistan on a web publication linked to Fort Irwin, a California military base. According to the website, the photos were taken in August.
Bales' wife and two young children have been moved to Joint Base Lewis-McChord near Seattle for protection, said Bales' Seattle-based lawyer, John Henry Browne. The Army said Bales will be held in "special housing in his own cell" in the Fort Leavenworth detention center, which it described as a "medium/minimum custody facility." Bales, who completed a two-year associate college degree in 1992, joined the Army in 2001, the Army said. His home of record was listed as Jensen Beach, Florida.
His military training included education in sniper skills, military leadership and a course called "combat life savers."
Browne told Reuters that post-traumatic stress disorder, or PTSD, would likely be part of the defense.
"It is commonly used in military defense," he said, calling it a mitigating factor. Browne has said the soldier was unhappy about returning to combat after being wounded twice in Iraq. The Army statement said Bales had spent a total of 37 months during three deployments in Iraq between 2003 and 2010.
Browne added on Friday that Bales had witnessed a serious injury to a comrade the day before the massacre in the southern province of Kandahar on Sunday.
"One leg was blown off," Browne said, and the sergeant was nearby. Browne or a colleague from the defense team plan to meet the sergeant next week, he said.
At a news conference on Thursday, Browne described his client as "an exemplary soldier" who was upset at having to do a fourth tour of duty in a war zone and was likely suffering from stress after seeing colleagues wounded. An unnamed U.S. official had told The New York Times the killings were a result of "a combination of stress, alcohol and domestic issues - he just snapped."