The ubiquitous bamboo growing on riverbanks and gardens provides a livelihood to many artisans engaged in cottage industries such as basket weaving and curios. Now, the humble bamboo is set to change the face of yet another traditional but neglected indutry - handloom fabrics. This is thanks to the innovative ideas of one of Sri Lanka's leading handloom designers, Anuradha Yahampath. Hailing from the first family of the handloom Industry, Anuradha earned her degree in textile design in the UK. Returning to Sri Lanka after a further stint in the UK, she re- joined KANDYGS (set up many years back by her parents) to assist her parents and has since then made an impact with her keen sense of design and colour.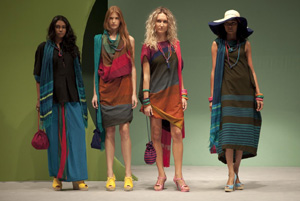 Contemporary styles created with a mix of bamboo and cotton yarn dyed in vibrant colours to create an extra fine and exotic fabric.
Always passionate about sustainability and her Sri Lankan identity, she has lobbied for government support to revive the traditional handloom sector, and was rewarded for her efforts with approval from the Ministry of Economic Development to undertake a pilot project with 60 weavers in two villages in Divulapitiya. The success of this project combined with the setting up of a centre to assist and coordinate activities of village level handloom weavers and function as a marketing resource.
The handloom industry is highly dependant on the import of cotton yarn for its production. Apart from KANDYGS there are less than a handful of producers who can bear the cost of importing yarn for weaving. This has made the traditional home weavers indigent, and handloom weaving a subsistence level cottage industry. When Anuradha first visited the villages in Divulapitiya, they were actually using thread drawn from export garment cut piece and reject fabric to produce their own yarn, which restricted their quality and output.
The industry had up to 110, 000 handlooms in the early 1970's, unfortunately it is now reduced to an insignificant 11, 358 looms ( source -Department of Textiles 2010).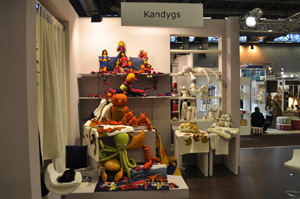 Collection of soft toys and home furnishings created with bamboo fabric was showcased at the Kandygs stall at Maison, Paris, France, in January this year, and generated very high interest from European buyers.
The revival of handlooms is important to Sri Lanka not only because it has an important historical background but also the end product can be sustainable as long as you use the right raw material and the ability to have an individualistic design. Most of all it has immense entrepreneurship opportunities mainly for rural women of Sri Lanka. The export potential in the modern world for such a product is high.
For its long-term survival the cottage level handloom industry cannot be completely dependant on imported cotton yarn. Growing cotton in Sri Lanka on a large scale has proved in the past not viable as cotton plantations require a large amount of land and more importantly divert huge quantities of water from food production and export crops, given that 15, 000 to 20,000 litres of water are required to produce just one kilogram of cotton.
Bamboo, which is the largest member of the grass family and the fastest growing woody plant, grows in diverse climates without the need for fertilizer and pesticides. The water use efficiency of bamboo is high; it regenerates itself after harvesting eliminating the need for replanting and is a good carbon sink. Thus the bamboo plant is a sustainable and versatile resource.
China, where bamboo plants originated, is a pioneer and currently the world's largest producer of bamboo fabric. This fabric has several highly attractive features – it is soft like cashmere and shines like silk, a permeable and actively breathing fabric thus perfectly suited for tropical climates, does not cling to the body, and is highly water absorbent. This last feature makes bamboo fabric a popular choice for babies' nappies and clothes. "Bamboo is not only beautiful but will help to save our planet," says Anuradha.
Bamboo yarn has to be imported from China for the present, but, with the support of the relevant ministries, bamboo could be grown on a larger scale, not only in home gardens but also along river banks and forest reserves, and, combined with small scale processing plants associated with handloom centres, bamboo fabric could play a pivotal role in ensuring the livelihood of cottage level handloom weavers. With a vibrant garment industry it may even be possible for Sri Lanka to carve itself another niche in world markets with bamboo clothing, which is currently gaining popularity in the US and Europe.
(The writer is a Brand & Marketing Consultant)