Two teleplays 'Thaksalawa' and 'Abarthu Etha' telecast during the year 2010 bagged most of the awards at the 16th Sumathi Tele Award ceremony held last week.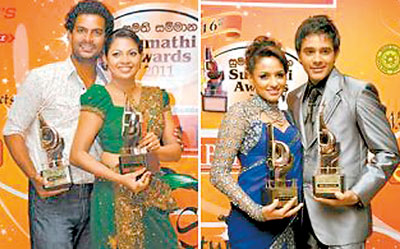 Sumathi awards- Best best stars and popular stars
Recognising tele-talents 55 awards were given away to artistes of Sri Lankan television field. Director of "Thaksalawa", Ananda Abeynayaka won the best teledrama director 2011 award while the teledrama telecast on Swarnawahini channel won the best teledrama of the award. Himali Sayurangi who played a key role in "Thaksalawa" also won this year's best actress award.
Dulani Anuradha won the best upcoming teledrama actress award and Jagath Manuwarna was awarded with best upcoming actor award for his role in "Thaksalawa" teledrama. Musician and Singer Samantha Perera won the best theme song singer and best musician awards for his singing and music direction in "Thaksalawa" teledrama.
Another teledrama which won accolades at the Sumathi awards was 'Abarthu Etha'. Roshan Ravindra who played the main role in the teleplay won the best teledrama actor award while Rasika Suriyaarachchi won both the best screen play award and the best theme song award for the same teledrama.
Veteran actress Anula Karunathilaka and singer Angelin Gunathilaka who had contributed to Sri Lankan cinema and music were awarded the U. W. Sumathipala memorial award.
"Bonda meedum" teledrama won the most popular teledrama award while its main actress Udari Warnakulasuriya won the most popular teledrama actress award while Saranga Disasekara was the most popular actor.