These days, good donors are hard to find. However, Subha Grassi and her family have been unwilling to let that get in the way of helping people. Founded by Subha's parents Tom and Sriyani Tidball in 1982, the Community Concern Society (CCS) is aptly named. "It's just people helping people," Subha says, adding that a number of volunteers contribute their time and energy to the organisation. When funds ran low for some of CCS's projects, they decided that instead of scaling back, they would simply raise the money themselves. The result was Salvage – a line of clever, beautiful jewellery created by hand from recycled products.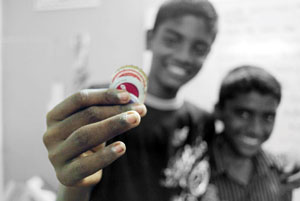 The delicate origami swan earrings and necklaces made of strings of paper beads are actually the result of a group effort, says Subha. Each bead, like the other component parts of the jewellery is made individually. The people who make them are drawn from some of CCS's many programmes – including women from "Heavena", their battered women's shelter, their HIV drop in centre as well as children from the beach community, all of which are in the vicinity of Colombo. They come in whenever they can to sit down and patiently roll intricate little paper beads, fold swans, cover hoops and flatten bottle tops.
The pieces that are made with paper are then varnished. Others work alongside, making the small paper bags that serve as packaging. Some of the younger kids will comb the beach looking for recyclable products and bring them in. They're all paid for their work, and none need wait till the end of the month or until their piece is sold to claim their pay – instead they can collect their cash on the spot.
For Subha, it's the only solution that makes any sense. "We don't want to get your C.V or know if you're going to come back tomorrow," she says, adding that it seems unreasonable to ask people who are in difficult circumstances to hold out till the end of a month. For many, what they earn that day will put dinner on the table. That the artistic work appears to be therapeutic is something they count as a bonus. The response so far has been very positive – though the Salvage line is currently only sold at Trunk stores in Colombo, it has been stocked in some stores in America and Italy. The raw materials themselves are more often than not donated, with people dropping off everything from magazines and old earrings to colourful fabrics.
Swinging from Subha's ears today are two perfect yellow and black circles with a popular brand name on them – made from flattened bottle caps, the funky earrings are a hit. Many of the caps are collected by kids in their spare time, she says, adding that they are pleased to collect a small reward for each find. For her, there is a charm in taking something that was discarded and making it into something worth treasuring. Salvage's mantra she says is "to recycle and rehabilitate." In the long run, "we want to be sustainable, as well," she says.
The project fits well into CCS itself. It joins the Dehiwela Outreach Centre, the Lotus Buds Children's Home, the Power House Drug Rehabilitation centre, Save Lanka Kids, Lak Daruwo Child Sponsorship and Community Development and the Tsunami Project on their roster. The last is particularly close to their hearts – after all, Tom and Sriyani had first begun working with poor families in beach communities like Mt. Lavinia. What began as a humble project by two young idealists bent on saving the world has only gone from strength to strength, says Subha. Today its work she and her brothers continue to be passionate about. Her mandate is simple: "it's just about empowering people."