Heralding the Christmas spirit with a splash, the Synchronised Swimming Team of Ladies College presents 'So This Is Christmas', a water ballet performed to the tunes of timeless Christmas classics.
As we arrive at the Ladies College Swimming Pool to witness the making of this unique performance, a team of girls between the ages of nine to nineteen are eagerly practicing their moves- graceful ballet legs, somersaults, flamingos, dolphins and complex formations.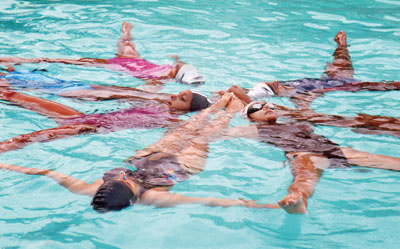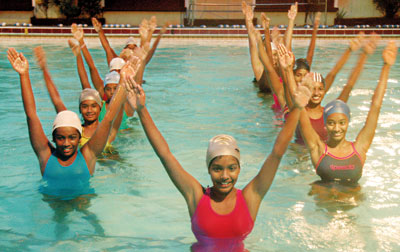 Pix by Nilan Maligaspe
Leading them is Sonali Ratwatte, the Ladies' College Synchronised Swimming Coach, who is both choreographing and producing So This is Christmas. The team has been practicing for three months now, and has achieved a level of perfection for such a young school team.
Synchronised swimming- a combination of swimming, dance and gymnastics- presents a unique challenge to a swimmer, explains Sonali. It requires a lot of stamina, strength and breath control. In spite of the effort, the performers must remain graceful and feminine in their movement. Everyone in the team must be a good swimmer and comfortable in the water, she adds.
It is a little difficult but it is fun, said Shenaya (12), chatting and relaxing at the edge of the deep-end with her team mates. It is not as easy as it looks. It requires so much coordination. "But we love it" adds Dharitri (17). When I ask how often they practice, "everyday", shouts the team in unison.
"We are a synchro-family," someone adds in and the whole group bursts into laughs. "We are a united team", explains Serena (14). "Today we have spent 7 hours in the water but we are still excited... We always have a good time," adds Dharitri. We could not have done it without our coach, Ms. Sonali, the girls add with gratitude.
Speaking of their performance, Swasha (19) says, "this is going to be different... something no one has ever done before." The audience is promised a unique experience, a splendid display of aquatic acrobatics and dance performed to the captivating and catchy tunes of classics like Silent Night, Little Drummer boy and Rocking Around the Christmas Tree.
So This Is Christmas will be held on December 2 and 3 at the Ladies' College Swimming Pool. Tickets are available at the school office and the Commons Coffee House.