GAMPAHA - Around 8.30 pm one dusty evening, a 11-year old boy steps into a hopper stall in a nearby town, looking exhausted and hungry. He tenders a 10-rupee note to buy a hopper, whereas the price of a hopper there is Rs 12. Seeing his plight and moved by the boy, a customer buys him a hopper followed by the boutique owner providing another free hopper and returning the 10-rupee note tendered, earlier.
The young fellow gulps down the three hoppers, and now with his little stomach full, happy and content, sits on a chair and tells his story.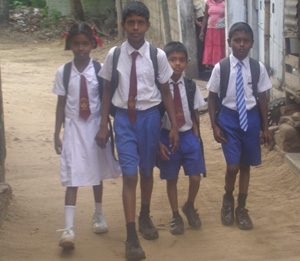 Picture shows Pradeep(right) going to school with his brother, sister and another child (second from right).
Pathmanathan Pradeep is in a family of four; mother, Pradeep, his elder brother (14) and a younger sister (8), all three going to school. His father has abandoned the family. They live in an abode worst than a shanty. The mother makes various eatables like patties, cutlets, fish-rolls etc, everyday and the two boys help her to sell the food.
Meeting the Business Times, his mother says that she spends around Rs 600 to prepare the food and the profit per day is around Rs 250 which is used to feed and run the family and for all other incidentals. There are large numbers of children who beg on the road, do various errands and often get involved in hard labour to help their parents to supplement the family income. Many have been abandoned and are subject to various abuses.
But little Pradeep's story is quite different. He helps his mother to meet the household expenses, sometimes going to sleep at midnight. He gets up at 5 in the morning and goes to school everyday. He is in the 6th grade, is very playful like any other boy but he has proved to be very studious. For, in a class of 50 students he is in the top 10. It is a herculean task given the family pressures he faces and the competitive rush for tuition by others who can afford it , which he does not have.
Pradeep said that earlier they played cricket in the neighbourhood, but stopped because the neighbours complained that the children wreaked their gardens when the ball strayed into those areas. What is significant in this little one is not only going to school and studying well, but, from this small age he is determined to join a bank. Everyday despite all the hardships, the mother gives each child Rs 20 to have refreshments during the school interval.
Some days, Pradeep saves his pocket money and buys ornamental fish and maintains a small aquarium. His mother told the Business Times the boy has stopped buying ornamental fish now. When the child was asked as to how he would become an officer in the bank, though he could not specify the position he envisages, he said to become a banking officer he needed money to study, etc. And that's why he began saving. He has now saved Rs 80 in his minor savings account. The mother, a pretty woman in her mid-thirties was in tears when she told the Business Times that Pradeep now pressurizes her to provide him with Rs 200 to deposit in the savings account.
"We are worst than outcasts and society rejects us. My husband left us, when he could not pay back a considerable amount of money that he has borrowed to run a gram cart (Kadala Karaththe). We are so poor and my son's vision is unthinkable and in no way affordable", she said. With tears in her eyes, she asked "Who is the mother who does not like to see her children succeed in high places in the society? I pray God to save and protect Pradeep and help fulfill his vision".
The little boy toils to help his mother, studying well while struggling hard to save for his future education which could possibly help him fulfill his ambition. Pradeep could be a role-model for any socially-responsible person, organization or bank to support him and help him to reach his desired goal and be a useful citizen.