One of the most colourful and fearlessly upright police officers retired recently ending a near four decades-long career that will be discussed and debated by friends and foes for years to come.
Deputy Inspector-General Lucky Peiris was known as an outspoken officer. He was meticulous in his work, but highly intolerant of transgressors who would be treated to an unprintable verbal barrage.
His management style was controversial, but he was not known to harbour malice and even his foes could agree that he was a rare breed of old-school honest officer.
As a reporter trying to piece together a story on high road fatalities in Sri Lanka, I had occasion to meet him professionally for the first time in 2004, but only after I had followed the bureaucratic chain of command.
Only after clearance from the then police chief did I get to see the legendary Lucky Peiris. He was known to have ruffled the feathers of a VVIP and been sent to the "cooler" as director of the Traffic HQ, but did not show any sign of bitterness or rancour.
Instead, he turned the Traffic HQ in to a prized-posting that played a key role in urban development, town planning and traffic management in the country. He went on to make probably the first public comparison of the number of casualties in the country's drawn out separatist war with the fatalities on Sri Lankan roads.
"In our country, road accidents have claimed more lives now than during the war (between troops and Tamil Tiger rebels)," said Peiris speaking as Director Traffic Administration and Road Safety at police headquarters.
"That itself shows the state of our driving." From the position of its director, he progressed to head the Traffic Headquarters as its Deputy Inspector General. I was impressed by his expertise in traffic management and road safety. Perhaps it could be attributed to his attention to detail as well as experience abroad.
I was to learn later that his foreign sojourn was triggered by death threats after whistle-blowing against an administration accused of extra judicial killings. Although Mr. Peiris did not try to cultivate journalists for his personal glorification, I believe he was quietly working to make a difference on our roads both through better enforcement as well as suggesting new regulations.
It was when he headed the Traffic HQ that many spirited motorists started leaving their cars behind and switched to taxis to avoid getting nabbed for drunk driving. I was also to learn that he would not revoke a traffic ticket given by one of his officers even when the request for such favours came from some of his close friends and family.
His subordinates had advised me that "mahattaya ticket walata udaw karanne ne" ( Sir will not help with traffic tickets). However, I found that if an injustice was brought to his notice, he would not only act immediately, but also ensure that offending police officers were penalised.
I learnt that some errant officers were called in for traffic "classes" where they would also benefit from Mr. Peiris's linguistic skills. If his management tactics were controversial, he also took the unusual step of declining a farewell parade that is reserved for retiring senior officers.
He told me he did not wish to kick up any dust as he left and was heading for a comfortable retirement that will see him spend time with his wife and only son.
Colour My World on mission to create awareness on Autism
Giving a voice to the silent suffering of those affected by autism is what brought this group of young minds together. 'Colour My World', a voluntary organisation established in June 2011 to help children with special needs, is driven by a vision to create awareness about autism in Sri Lanka.
An Autism Awareness Walk/Run organised by Colour My World will be held on Saturday, October 22, beginning at the Independence Square at 8 a.m.
The walk/run will travel a distance of 3 miles (approximately 5 km). The registration fee is Rs. 500 and all participants will receive a free t-shirt and refreshments. "We invite everyone to join us and show their support even if you do not want to walk or run," said Giselle Dass, Vice President of Colour My World.
Apeksha Fertility Care to launch clinic to diagnose PCOS
A clinic to diagnose Polycystic Ovarian Syndrome (PCOS) is to be launched next month at the Apeksha Fertility Care at Nugegoda, under the guidance of Consultant Obstetrician and Gynaecologist Dr. Hemantha Perera.
The launch of the clinic was part of the first-year anniversary celebrations of Apeksha Fertility Care which has also set up a sperm storage facility and donor bank, where not only technology but high moral and ethical standards blend together.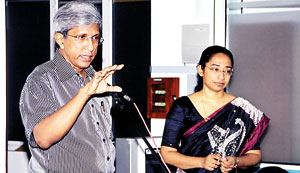 Picture shows Consultant Obstetrician and Gynaecologist Dr. Hemantha Perera and Apeksha Medical Director Dr. Champa Nelson addressing Family Practitioners. In the gathering were Western Province Director of Health Dr. Amal Harsha de Silva, IMPA Secretary Dr. S.A.P. Gnanissara and IMPA President Dr. Sydney Jayasooriya.
To be held every Thursday, the clinic follows a medical education programme on 'What the Family Practitioner should know on PCOS' held recently as Family Practitioners are the very first link in the health-care provider chain that women will access. (See MediScene) The programme was conducted in collaboration with the Independent Medical Practitioners' Association under President Dr. Sydney Jayasooriya.
Male infertility is the cause for 40% of infertile couples and could be caused by smoking, pollution, alcohol and high levels of stress, said Dr. Champa Nelson, the Medical Director of Apeksha Fertility Care who spoke on 'Sperm preparation for IUI and sperm donation'.
Apeksha is planning to open satellite centres around the island to transfer the technology received from abroad to other areas such as Kalutara, Avissawella, Batticaloa and Kurunegala, said its Managing Director Deepal Nelson.
Apeksha conducts free women's health seminars for corporate institutions, factories, the armed forces, schools, banks and any other place where there is a need for education on women's health.
For more information please contact Dr. Champa Nelson at Apeksha on 0114897897 or e-mail:
info@apekshafertility.com
Asian Spinal Cord Network (ASCoN) Conference in Colombo
The 10th Asian Spinal Cord Network (ASCoN) Conference will be held in Colombo from October 21-23, in collaboration with the Health Ministry and the International Spinal Cord Society.
This conference on spinal injuries which have profound physical, psychological and socio-economic consequences, will be co-hosted by the SAARC Surgical Care Society, the Sri Lanka Orthopedic Association and the Sri Lanka Association of Rheumatology and Medical Rehabilitation. It will cover all aspects of spinal cord injury management, treatment, rehabilitation and community integration, while providing an opportunity for people in the Asian region to come together and network with others regionally and internationally, to share ideas and discuss or debate dilemmas and the latest developments and innovations in spinal injury management.
For more information, please access the website: www.saarcsurgeons.org or contact the conference counter at the Orthopaedic Clinic of the National Hospital of Colombo.
Take a journey with Nicolo and his camera
By Shalomi Daniel
How often have we made every effort to completely block out signs of human interventions such as the cables, advertisements and highways, that to us, stand in the way of a majestic mountain scene or a breathtaking sunset?
"Nature is not the ideal postcard void of human presence, but more realistically the outdoor views we experience when moving from one place to another," explains award-winning Italian photographer Nicolo Sertorio with a smile as he points out of the window to the bumper-to-bumper traffic, wild tooting of horns and the billboards that make up Havelock Road on a regular Friday evening. This is reality.
Therefore, Nicolo's photographs have a generous share of road signs, flyovers, billboards and cables in an effort to highlight how human civilization is integrated with nature. His exhibition 'Passages' now on at the Casa Serena Gallery shows this collection of photographs along with another titled 'With bits of Italy'.
"My mother gave me my first camera when I was five years old," reminisces Nicolo. Having decided a few years back to develop his passion for photography further, by turning it into a career as well, Nicolo is now involved in the artistic and commercial side of photography.
Over the years, he has not only exhibited his work in many countries, but has also received many a prestigious award, such as Prix de la photo Paris, Planet global travel, Apa national 1st prize 'fine-art', Altpick awards 1st prize photo series, Apa 'something personal', International aperture award and Photo France. He also exhibited at the 'Format' photo festival group show in Derby, UK with some big names in the field.
It is evident that Nicolo is not yet quite done with 'Passages' as he hopes to take it to Belgium and compile a book of photographs on the same concept. Growing up for the most part in Italy, he was greatly influenced by the Renaissance and turn-of -the-century European paintings. Nicolo says that while it is natural to be influenced by other photographers, it is important to identify and develop one's personal style.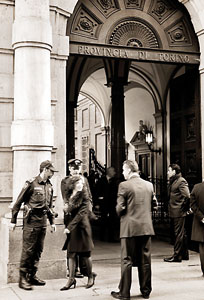 An image from 'With bits of Italy'
"We should find our own voice," he stresses. Discussing whether photography is an inherent talent or a skill that anyone can develop through practice and training, Nicolo says that in his opinion, it can be either one. What is needed to develop the quality of the work is practice, and this is what Nicolo always tells his students.
"The technical aspect comes second." He urges photographers to take some time to reflect on what exactly it is about the object that makes them want to photograph it. Then it is a matter of highlighting that feature.
While photography is a passion and his career as well, it has also taught him valuable lessons.
"It helped me to stop and think as well as be more visual," says Nicolo. An avid reader and traveller, Nicolo has been provided with ample opportunities to get to know as well as photograph many diverse and vibrant cultures."Travelling is my excuse to poke around with my camera," he smiles.
The exhibition will be on at the Casa Serena gallery, 122, Havelock Road, Colombo 5 until October 19. The gallery is open from 10 a.m. to 6 p.m. from Tuesday to Saturday and from 1 p.m. to 6 p.m on Mondays.
Jacob, Prince of God: A musical extravaganza of a Biblical story
By Namali Premawardhana
Most of us have seen some version of 'Joseph and the Amazing Technicolor Dreamcoat' by Andrew Lloyd Webber and been inspired by the transformations in the life of the dreamer. We nearly forget though, that the benevolent and jolly old man, Joseph's father, had his more-than-fair share of drama as a young man too. Known as the deceiver, he tricked those around him countless times to end up in scrape after scrape after scrape. Inspiring as it is, to think that such a man would grow to father a nation, imagine the story coming to life!
'Jacob, Prince of God' will do just that next weekend as a production of The Christian Arts Foundation with the collaboration of experts Jerome L. de Silva and Mary Anne David.
The Christian Arts Foundation, better known as CHRAFT, is now two years old. Ramesh Shantha brought the idea of a school of music and theatre that encouraged Christian ethics to Jerome L de Silva and Mary Anne David in 2009, and was met with total encouragement. "I had always been working with churches and Christian ministries like YFC in my forty-two years of theatre production in this country, but never in a formal way," Jerome, who will soon be celebrating his 60th birthday, shares, "and I've always wanted to." So when as he was phasing out of his advertising work and going into retirement, "suddenly from the blue, Ramesh called", he thought, "superb!"
The foundation sees the participation of very young people (their junior-most member turned six just two weeks ago) and some older people as well. "When we started, I said, the age group is five to a 105," Jerome laughs. These participants belong to different church denominations, while some of the cast and crew are in fact, from other religious backgrounds. The basic principle behind the work at CHRAFT is sharing love and having fun, a philosophy which seems to work extremely well, as enthusiasm, numbers and popularity just seems to be growing!
True to their bid to share love equally, CHRAFT currently participates in the 'Uthurai Vasanthai' initiative and has from its inception been conducting workshops in distant and "unfashionable" areas such as Menik Farm. Though for the last two years the organisation has been involved mainly in church-related performances, they are finally going public with this production of 'Jacob Prince of God'.
"It's not exactly Broadway, but it's really big," Jerome promises. A cast of nearly forty people (minus the choir!) will take the stage at the Lionel Wendt from October 21 to 23 starting at 7.30 p.m to portray the story of Israel's birth. And although the plot stays true to the Biblical version, "it's more a musical than a Bible story," according to Jerome. "It's really very funny, and there's lovely music!" he enthuses, promising "extravagant" lighting and some "sure to be spectacular" moments, declaring the production likely to be "the theatrical event of the year"!
Please call 2828810 or 722 386 200 for ticket information.
An evening of Praise and Readings
"The Church's One Foundation" , an evening of Praise and Readings with Neranjan de Silva at the organ and school choirs directed by Rohan and Ishan de Lanerolle in aid of the Home for Ascension, Bandarawela will be held on Saturday, November 5 at 6 p.m. at the Cathedral of Christ the Living Saviour, Bauddhaloka Mawatha, Colombo 7.
The Lanerolle Brothers are presenting this programme bringing together the multi-talented school choirs on the invitation of the Bishop of Colombo Rt. Rev. Dhiloraj Canagasabey.
Programmes priced at Rs 500 could be purchased from St Paul's Milagiriya Church, Park Street Mews, The Commons, Bay Leaf & Cafe Che from October 10. No programmes will be available at the entrance. For details please call - 0772 838 906.
Danangi's third solo show
The Diri Daru Piyasa (Special Children's unit) of Miranda Hemalatha Kala Ashramaya will present Danangi Fernando's third solo performance at Bishop's College auditorium tonight, October 16 at 6. p.m.
Nelum Tarushi Danangi Fernando will dance 12 items. The second Down's Syndrome child to present a solo dance performance in Sri Lanka, she is 13 years old.
All proceeds of this performance will be for the hostel building which is to be started soon at Kindelpitiya. The vocational training centre is currently at the M.J.F. Centre, Katubedda Junction, Moratuwa. All are welcome.
Lankan musician and Indian playback singer to perform in Australia
Padmashree Hariharan (India) with Sri Lankan musician Sarangan Sri Ranganathan will perform in Sydney and Melbourne with their backing musicians on October 22 when they present their concert 'Sruthi'.
Indian playback singer Hariharan, two- time National Award winner, and the recipient of the prestigious Padmashree award is a contemporary great. An established Ghazal singer, his songs embrace Indian, Western, and Asian influences .
Sarangan, is well versed in both classical and fusion music. A mesmerizing singer, and an excellent keyboard and sitar player, he is well known in Sri Lanka and has collaborated with the likes of the Sydney Symphony orchestra, Billy Cobham , Guru Karai kudi man, Admashree A.Hariharan, Shreya Ghosal, and many other celebrities.
Sri Lankan audiences can expect to see this scintillating performance soon.
Bakamuna in Colombo and Wattala
Bakamuna Veedi Basi (Owl in the Street) – a political satire by dramatist Rajitha Dissanayake will be performed in Colombo and Wattala this month. The critically acclaimed play will be performed at the Ananda College's Kularatne hall on October 20, followed by a performance at the Wattala Town Hall on October 22. Both shows will be at 3.30 and 6.30 p.m. and tickets will be available at the gate.
The 'Bakamuna' cast includes Shyam Fernando, Dharmapriya Dias, Sampath Jayaweera, Priyankara Ratnayaka, Jayani Senanayaka, Prasada Sooriarachchi and Samadhi Laksiri.
CEA Chairman to deliver keynote address at Solid Waste Association World Congress
Central Environmental Authority Chairman Charitha Herath will deliver the keynote address at the International Solid Waste Association World Congress 2011 in Daegu, Korea on October 17.
With the theme 'Waste to Green: Waste Management for Low Carbon & Green Growth Society' the World Congress brings together leading international experts from the waste and resource management sector.
Mr. Herath will showcase to a global audience, Sri Lanka's ambitious efforts to address one of the key environmental problems which is solid waste by 2016 through the implementation of a integrated waste management solution. Mr. Herath who is a Senior Lecturer at the University of Peradeniya is on secondment to the CEA.
Farewell dinner for Thai Ambassador
The Sri Lanka- Thailand Society hosted a dinner at the Grand Oriental Hotel to bid farewell to Thai Ambassador Thinakorn Kanasuta. Here the secretary of the society Upali S. Jayasekera is seen presenting the Ambassador a memento from the society while President of the society Nirmalie Gunatilleke, Mrs Dana Kanasuta and Minister Counsellor of the Thai Embassy Narong Yudhakajkumthorn look on.
Supiri Mal Dakma at Battaramulla
The Supiri Mal Dakma exhibition and sale of plants will be held on October 21, 22 and 23 near Waters Edge (Parliament Roundabout) in Battaramulla from 9 a.m. to 7 p.m.
Imported ornamental plants, herbal and fruit plants, clay pots, mini gardens, vegetable/flower seeds, agro chemicals, fertilizer, etc. are also available. This plant show is organized by Punya Kathriarachchi.
Little girl in need of cochlear implant surgery
S.Z.Hussain, father of little Fathima Rushda, three years and four months old is appealing for assistance for his only daughter. She has bilateral profound hearing loss with hypoplastic IAM and has to undergo surgery at Madras ENT Research Foundation (P) ltd, at Chennai, Tamil Nadu, India, for cochlear implant surgery and Auditory Brainstem Implantation. Prof. Mohan Kameswaran will be leading the surgery.
The cost of surgery is approximately Rs.4,200,000 (INR 1,400,000) including hospitalization.
Kind donors are requested to send in any contributions to the Bank of Ceylon, Hulftsdorf branch (Colombo), Account Name: S.Z.Hussain, Account: 8096897.
Damaged pipeline gets attention of provincial councillor
A damaged pipe-line at Cader Nana Garden, Borella was recently repaired under the direction of Provincial Councillor and Founder Pragna Pradeepa Concept, Chief UNP organiser for Borella, Jayantha De Silva.