To him, film is the ultimate product of all forms of art, a voice that ushers in social change. It is his life's passion, his dream. "I was never interested in making a blockbuster," says Salinda Perera, the director, producer and co-writer of the award-winning film Dheevari: Fisherman's Daughter. Salinda, back in Sri Lanka from his home in the US took more than 15 years to complete his first effort for the silver screen, but the film won the coveted People's Choice Award- the only award given to non-Arabic films at the Dubai International Film Festival- beating other contenders including the multiple Academy Award-winning film No Country for Old Men.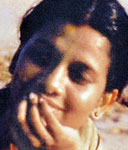 Lead role: Sangeetha's acting came in for praise
Dheevari, based on Raja Proctor's novel Fisherman's Daughter, is a moving tale of Valli, an orphaned girl who returns to her parents' fishing village, the story following her transformation into a strong-willed woman, who challenges superstitions and feudal traditions, determined to break the cycle that traps the villagers in poverty.
Even though Salinda has spent more than 30 years in the US, his creative work is deeply rooted in the culture of Sri Lanka. He spent his formative years in Lindula, Ratnapura, Anuradhapura and Colombo. His experiences of swimming in the sea and diving for lobsters gave him an "affinity with the fisher people" which, as he explains, was also a motivating factor to create this film.
The young Salinda had "no interest" in what he was taught at school. He "dropped out" and followed a more creative path, studying art and sculpture together with well known artist Richard Gabriel and joining theatre workshops conducted by Dhamma Jagoda.
In 1973, he was involved in the creation of Sri Lanka's first rock opera, Life, a production that combined "original music and songs [with] stylized choreography". To Salinda, Life represented the frustration experienced by young people of the era, and his production stirred quite a bit of controversy then, he adds.
Salinda had his first taste of cinema when he worked as the Assistant Director alongside Lester James Peries in the film God King. "He has the potential", is what the legendary director told Salinda's parents, a statement which later paved the way for Salinda to enter a film school. Salinda also contributed to Manik Sandrasagra's film Rampage.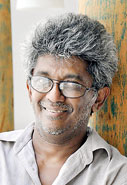 Salinda: Looking at new horizons. Pic by Susantha Liyanawatte
Even though Salinda's success helped him convince his parents, his poor academic performance made university entry difficult. Undeterred, he attended a junior college in the US and "wrangled his way into film school", entering the prestigious University of California Los Angeles School of Theatre, Film and Television.
"The most valuable thing I learned from film school was film criticism," said Salinda. At UCLA he discovered social and political implications of cinema. Under the guidance of Teshome Gabriel, an internationally recognised scholar on Third World Cinema, he began discovering the gems of film from other developing countries. The 1970s was a time when radical film makers from the Third World began to emerge. Dubbed the Third Cinema, this movement was a reflection of the Latin American revolutions and an outcry against the sociopolitical situation of the time, explains Salinda.
One of Salinda's first scripts was based on the 1971 insurrection and the battles of a journalist in the face of censorship. However, considered "too controversial for Sri Lanka given the political climate" the project was later abandoned.He wrote another script, a story about three Sri Lankan youths who try to make a living in LA during the 1970s. As an ambitious fresh graduate, Salinda refused a production company's offer to hand the script to another director. "That was probably the biggest mistake I made in Hollywood," Salinda adds with a laugh.
Desperate to make a film Salinda was drawn to Raja Proctor's novel Fisherman's Daughter, which he believed would be "a simple, non-controversial film with decent commercial prospects that [he] could do in [his] own country". He co-wrote the script together with Darrel Costa and gathered the cream of actors- Sangeetha Weeraratne, Joe Abeywickrama, Cyril Wickramage, Trilicia Gunawardena, Jackson Anthony, Veena Jayakody, Roger Seniviratne and Wajira Liyanage- for his project.
Dheevari, was shot in 1995 on the coasts of Negombo and Kosgoda with only a modest budget of $125,000, which, Salinda says would be the amount allocated for one week's refreshments for the crew in a Hollywood production. Unfortunately, financial problems halted the production when about 95% of the movie was shot. For the next two years "the film was kept hostage at the lab because we could not pay the bill," he adds with a laugh. "Frustrated and disillusioned... I had given up on the project," he confesses.
Another decade went by before the film was "resurrected" by crew members. It was decided that the essential scenes of the film were on reel and a rough cut was sent to Salinda who had so far not seen a single frame of the film.
Encouraged, Salinda returned to Sri Lanka in 2006 to complete the post-production work on Dheevari. But shortly thereafter he went back to the US, leaving the film with the Sri Lanka Film Corporation for another five years.
The long process that has gone into the production of Dheevari has, instead of making the film old-fashioned, ripened its appeal. "The strongest part in Dheevari is the acting," says Salinda, praising his cast of "professional, adept actors".
Salinda's interest has now turned to literature particularly the works of young diaspora writers and South Asian literature. He is also planning on making "his first venture into bronze casting" in an exhibition of sculptures inspired by the Ramayana.
Showstoppers! Vocal Essence on a high
A cast ranging from six to 20 years in age, music from ragtime to jazz to pop to Caribbean and rock-and-roll, forms from choral to ensemble and solo – all together in a melting pot of musical extravagance flavoured with a six-member band and glittering costumes! Rapti Fernando, director at Vocal Essence promises that their debut concert Showstoppers! is a sure block-buster.
The programme, co-produced and co-directed by Janaki Amarasuriya will feature the budding young stars from their school of music, as they sing and dance to a line up of irresistible and unforgettable hits. Rapti admits that it is "no easy task" for these youngsters to engage in vocal performance as well as choreographed dance. But that their hearts are in the right place is not a questions as part proceeds from the performance will go to Ceylon School for the Deaf and Blind.
Theatre professionals including Jith Pieris,Wendy Perera (choreography), Priyanka Holsinger (lighting), Jojo's (costumes) and Dynamic AV have joined hands with Rapti and Janaki to support the young stars in their venture.
Showstoppers! will go on the boards at the Overseas School on Saturday, October 22 and Sunday, 23 starting at 7 p.m. Call 77 77 696 44 to reserve tickets. Saksel Natural Products are the main sponsors while Wijeya Newspapers are the print-media sponsors for the event.