On a dawn nature walk in Langkawi the naturalist said, "Hear those crickets? They clamour loudly, get attention, but die quickly. The silent species of cricket, however, proceeding quietly, perpetuates." Analogous, the vociferously marketed and the not-so-famous?...
Sri Suryas: Nothing is more delightful than a good dosa. Colombo's dearth thereof almost prompted an embarkation to Chennai for my regular dose of Sangeetha's dosa (cheaper than flying from Paris or London…). Happily, I recalled hearing when last in Chennai of Colombo's Suryas. But it required no little investigative ardour to locate (Suryas seems listed nowhere). Two relentless weeks later I discovered perhaps the only dosas and idlis in contemporary Colombo of Sangeetha standards.
During my dosa quest I circumnavigated the South Indian counters at Colombo's 5-stars, encountering only masala dosas stuffed invariably with degenerated masala, audaciously served with equally stale, straight-from-the-freezer chutneys and sambhar. As for idlis at the 5-stars, they attain great creativity: They look like space shuttles, feel like cannon balls and taste like something from a cement-churner. Such stratospheric innovations are beyond someone of meagre imagination like myself. Leave me to Suryas's faultlessly authentic South Indian cuisine. It's simple. But the simplest things are hardest to perfect.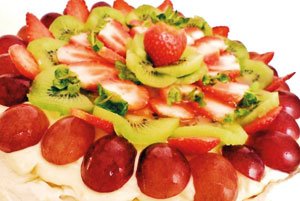 Monique's fruit meringue: One of her many sweet sensations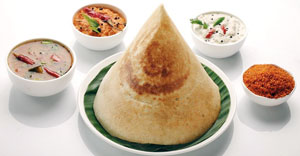 Sri Suryas: The place for dosas and idlis
I flee the fried. Unless it be Colombo's finest maidu and masala vadais. Ah, irreproachable flavour and textures. Try too Suryas's pert and piquant pakoras. One needn't ignore the oil, for there is hardly any to ignore.
Dosas are crisp, golden, exquisite. Dainty idlis, like little puddles of snow, dissolve in the mouth. Chutneys and sambhar excel, the South Indian coffee seems right out of Chennai and certain sweetmeats like dry fruit barfee rightfully deserve their celebrity at Indian expat functions and (already) stellar orders for Deepavali.
After the first experience, return I must to traverse Suryas's multifarious menu. Owner Mr Ravishankar says people's noses crinkle on hearing of the restaurant's Sea Street location: "Nobody expects A/C and such cleanliness." But Suryas caters for functions the Indian High Commission's big boys attend. I strenuously suggest that some of the 5-stars send their chefs to learn to cook at Suryas and their staff to obtain tips (no, not those…) on brisk, courteous service. Indeed, Suryas won a "Best Vegetarian Restaurant" award for food and hygiene.
Food, service, consistency and cost considered, Suryas is amongst Colombo's best stand-alones. You wouldn't defer after their lovely layered South Indian parothas accompanied by channa and kurma. Kurmas vary daily, encompassing spicy to mellow and milky. Mr Ravishankar reveals, "Otherwise people get bored." I don't foresee wearying of their paneer butter masala, rotis, poori masala etc etc. Neither do the trooped diners waiting to besiege any available table. With no advertising, queues meander. Once word is out, crowds might be uncontainable. I certainly want to go again and again and again. But if I review nothing else, I shall find myself without a job…
Monique's (0777761762): Monique recommends her just-launched blueberry cake. Entertaining visions of saccharine sponge lumped with blaring blue icing, I decline. Monique persists. I cede. I'm impressed. A muffin-textured ring beaming with blueberries, slimly iced, squats on caramelised cashews. Lime-lemon loaf, light, just-launched, tingles with fresh citrus glazing. Monique next suggests her cupcakes. I'm about to spurn with vehemence the cupcake (enough is enough). But my first carrot cupcake, peeping through cream cheese, interests. And mocha cupcake seduces on sight: the coffee cream is even coffee coloured! Though I flay cakes of all cream, a dot I retain of this cream that's actually coffeed. "I use no essences, except vanilla," Monique says.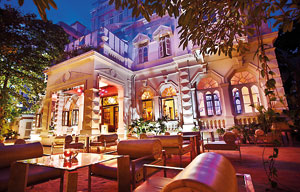 Casa Colombo: This glamour garden offers a tea platter sans refills
Meringue doesn't fascinate me, but clients marvel at Monique's fruit meringue, a veritable cream-weltered orchard of mango, passion, grapes, strawberries…. I think fruit-filled friandises are Monique's forte but apparently it's rum-laced chocolate ganache that has got Monique's following higher and higher. Strawberry Sensation, sponge plunged in cream and hatted in strawberries, is a visual sensation, although sensationally sweet. Monique's repertoire is unusual, her cakes wonderfully textured and striking. They are good and could be great, were they less sweet.
Mrs Ghosh's Goodies: The teacher-turned-software-designer-turned-fulltime-mother from Kolkata offers her guests Bengali sweetmeats like Kheer Kamla (scrambled orange in milk thickened over an eternity) and Bhapa Doi (soft, set, saffron milk). Tempted? Try getting yourself invited to supper or persuading Mrs Ghosh to take orders. Otherwise, she gladly dispenses recipes (0772960999).
High T (T Republic): When Casa Colombo launched I called it Colombo's classiest hotel. A rival boutique hotel owner baulked, "But it's so tacky!" Well, now everyone is calling Casa Colombo "Sri Lanka's Best Hotel" (WTA) and "Sri Lanka's Best Designed Hotel" (Bloomberg). I hope I shan't have to eat my words for recommending CC's little-known High T... This is no ungainly buffet of rancid fried food, collapsed puffs, soggy sandwiches and luminous cakes. CC is about style. And the stylish savour the slender.
Laze around a glamour garden picnicking on a tea platter sans refills. But won't Colombo learn it's about quality, not quantity? Fruit comes sculpted. Incomparably crumbly scones, amongst Colombo's only ones classifiable as "food," stun. Curried seafood or deftly herbed grilled mushroom are packed between outstanding homemade breads. The fanciest breads are available by pre-arrangement: tomato foccacia, kurakkan baguette, potato, paprika, rye or rock salt bread.... Masala chai fragrant with Class I cardamom, cloves, cinnamon and ginger doesn't partake of the High T, but splash on Colombo's only version crafted with home-roasted masala and not those ready-made sachets. The setting is hip and young. Talented new Chef Kareem is certainly young, but the anachronistic manager who came with the chef seems part of a buy-one-get-one-free package.
Thai Food Festival (Spices): The Spice, Chettinad and Jaffna Food Festivals are amply promoted, eagerly awaited annual events. Almost unheard of is Hilton's yearly mid-September Thai Food Fiesta. This September an ornate Thai boat was opulent with exotica prepared by Chef Rosarin from Bangkok. Chef Anura quipped, "Rosarin has lost 2 kgs because we've had her make 50 items daily." Vegetarians too might lose 2 kgs as the buffet offers nothing vegetarian, except peanuts- and the buffet doesn't cost peanuts… However, Chef Rosarin speedily supplies appropriately chilli-crackled papaya salad, tom ka, glass noodles (exploiting but two ingredients, lemongrass and basil, yet so subtly flavoursome) and about the only unadulterated Green Curry I've had since my student obsession with Oxford's Chiang Mai with its chefs escaped from Thailand's royal kitchens. Chef Rosarin's isn't that Milkmaid Thai curry rife around town (one Thai expat protested, "Colombo's Thai restaurants give Thai food a bad name.").
Despite Rosarin's culinary expertise, I try avoiding her Thai desserts. She prevails. And her black rice and pumpkin desserts surprise. If Chef Rosarin returns next year, you'd be foolish to miss her cooking. It's pricy. But as the Thais say, "Good things no cheap, cheap things no good…"
The writer is a freelance travel writer who has contributed to international magazines and newspapers including Tatler, Conde Nast Traveller, Harper's Bazaar, Wallpaper, Elle, The Telegraph, The Evening Standard and The Independent.