In his final days he was a frail shadow of his former self, his body ravaged by the cancer which was to eventually cost him his life. But the steely courage of Steve Jobs never wavered. He made no public statement about his devastating illness yet his determination to stay at work as long as he could and stay alive for his family needed no explanation.
In the end he died peacefully surrounded by the people he loved. He leaves a wife Laurene with whom he has three children Reed Paul, Erin Sienna and Eve. He also has a daughter Lisa Brennan Jobs who was born when he was just 23.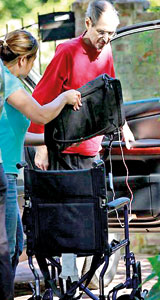 Dying light: Steve Jobs is helped into a wheelchair from his car by a nurse outside his Silicon Valley home on September 27 - and with a friend buying provisions the previous day
Jobs's family released a statement, confirming his death. 'In his public life, Steve was known as a visionary; in his private life, he cherished his family,' they said. 'We are grateful for the support and kindness of those who share our feelings for Steve.
'We know many of you will mourn with us, and we ask that you respect our privacy during our time of grief.'
The Apple founder was first diagnosed with cancer in 2003 -- but his condition was not made public until the following year.
From the very start, both the deeply private Jobs and the company kept the details of his sickness as vague as possible. When he finally made a statement, he confirmed that he had been sick but had undergone surgery and was cured.
He enjoyed four years of health there was fresh speculation that he was sick again. His appearance prompted some to believe that he was in fact seriously ill. But there was no comment from Jobs -- and the only word from Apple was that his health was 'a private matter.'
The rumour mill rumbled on. Bloomberg accidentally published an obituary prompting an online furore. The incident prompted Jobs to launch an Apple event in the autumn of 2008 stating: 'The reports of my death are greatly exaggerated.'
However, behind the scenes, Jobs was struggling. His weight plummeted -- which he blamed on a hormone condition -- and he had to pull out of a major speech at the Macworld trade show. By January 2009, he was forced to go on extended sick leave. Although the company insisted he was still in charge, it later emerged that he had undergone a liver transplant.
At the time medical experts said he would only have received the donor organ if he was critically ill with weeks to live. Jobs, the indefatigable fighter, bounced back. He returned to work in June 2009 and went on to launch a string of highly successful products. If he was still terribly thin, his energy and joie de vivre did much to bat aside public concerns.
By January 2011, he was too sick to continue work. He went on medical leave. In March he was back at work receiving a standing ovation when he appeared on stage to introduce the iPad 2 at its official product launch.
Still Apple did not comment but as the months went by, it became clear to his closest staff that Jobs would probably not be coming back. He finally resigned as CEO just over a month ago on August 24.
In his resignation letter he made no mention of his illness and wrote only that he had always said he would step down if he felt he could no longer do the job to his high standards.
Apple shares took a 5 per cent hit after Jobs stepped down, market fears were allayed because he was staying on as chairman. Days later he was photographed outside his Palo Alto home. It was now horribly clear that he was entering the final weeks of his life.
Although it was well-known that Jobs was suffering from the disease the rapid decline of his health has come as a shock to many. Pancreatic cancers are generally some of the most lethal of all tumours, and the most common type often kills within six months.
However according to reports Jobs was suffering from a less common variety that grows far more slowly and develops in the hormone-secreting section of the pancreas. In later years, Apple investors also watched his public appearances closely for clues about his health.
News of his illness was first announced in 2004 when it was said he had received surgery to remove a tumour the previous year which had cured the disease. The company had sat on the news of his diagnosis for nine months while he tried beating the disease with a special diet.
In 2005, following the bout with cancer, Mr Jobs delivered Stanford University's commencement speech.
'Remembering that I'll be dead soon is the most important tool I've ever encountered to help me make the big choices in life,' he said.
'Because almost everything -- all external expectations, all pride, all fear of embarrassment or failure -- these things just fall away in the face of death, leaving only what is truly important.' Speculation that the illness had returned mounted during 2008 after pictures showed he had lost a great deal of weight.
During Apple's earnings conference call, the company's Chief Financial Officer Peter Oppenheimer said Jobs has no plans to leave the company and that his 'health is a private matter.' In 2009 he abruptly took a six-month leave and during that time he received a liver transplant that became public two months after it was performed.
The fiercely private CEO has said relatively little about his health problems, although he did acknowledge his bout with cancer during a commencement speech at Stanford University.
He told the assembled students: 'No one wants to die. And yet death is the destination we all share. No one has ever escaped it.'
© Daily Mail, London