SAN FRANCISCO, Oct 8 (AFP) - The launch of a hot new Google smartphone has been delayed as the world mourns the loss of legendary Apple co-founder Steve Jobs and sales began of the latest iPhone.
Unconfirmed word also spread that a private funeral was taking place on Friday for Jobs, who died Wednesday at the age of 56 after battling cancer.
Apple has indicated that no public memorial is planned. People touched by the death of the Apple co-founder have made pilgrimages to Apple stores, the company's Cupertino headquarters, and even his family's two-story brick home in an old section of the Silicon Valley city of Palo Alto.
Apple security and local police have discretely ringed the house, clearing the way for dark vehicles bearing flowers or friends to get through the barricaded intersection and into a driveway of the corner property.
On the far side of the slate-roofed house is an apricot orchard. Jobs bought the neighboring property a long time back and knocked down the house there to put in a swing set for his children and an apricot orchard because he so loved the fruit, according to neighbors.
People, some with children, came to pay tribute to Jobs and a collection of orchids, roses and other flowers grew.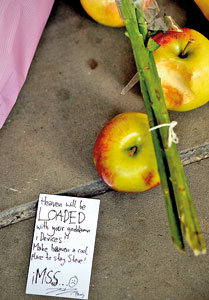 A note is left with flowers and apples outside the Apple store in Covent Garden, central London, following the death of Steve Jobs, co-founder and former chief executive of US technology giant Apple, at the age of 56. Millions of people pay emotional tribute to the late Steve Jobs, praising the Apple founder's vision and creative genius which has left behind a world transformed by his legacy. AFP