Flavors (Galadari): The decor is no sensation. But then, it isn't pretending to be. Trailing wooden and mirrored handicraft relieve muted minimalism as embroidered tapestries transformed into pankhaas of yore fan over fuming emanations from fiery curries.
If interiors don't lend themselves to introspection, get a window seat framing the lobby at this restaurant rather resembling the dining coach on a train.
Embark on a culinary tour around India as you chook-chook through Chef Frank Jayaselan's Pan-Indian itinerary. The North Indian fare is fair. The chef is from Chennai and despite experience in North India (Taj, Marriott and Hyatt) he professes a passion for South Indian specialties. However, Moghul curries are thick with cashew gravy and thin on oil (no little achievement) and they will doubtless thoroughly delight those less exacting than myself. Tamarind-jaggery concoctions refresh and chaats titillate with a splendid amalgam of sweet, sour and spicy. Fruit chaat is the chart topper.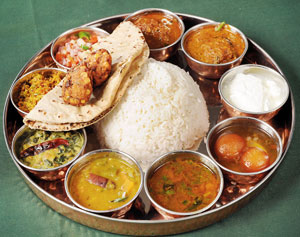 New 'Flavor' at Galadari
Staples include idlis, dosas, appam, string hoppers etc. I should rather be inclined to explore the South Indian curries (Chef suggests Chettinadu pepper chicken) or the thali (in South India it is called sapaada, but thali, like chicken tikka masala, now seems stapled to Indian cuisine of any description...).
Chef Frank is frank. He delegates the "staples" to local chefs who haven't grasped the art yet, but the restaurant only just launched. However, he jealously guards the Malabar parathas. Apparently, Malabar parathas at a South Indian restaurant in Australia proved so massively popular to cope with demands they had to recruit chefs from a paratha-making competition.
Chef Frank didn't make it. Devastated, he immediately rendered himself at a street hawker's to accomplish those nine-flaky-layered, melt-in-your-mouth Malabar parathas. Do his parathas melt in your mouth? Not quite, he says, for the flour here is inappropriate. Chef has insisted on acquiring Basmati rice and real ghee, but mostly isn't thrilled with ingredients he has to contend with. Nevertheless, none can fault those A Grade colossal cadjus burgeoning forth from stuffed potato kebabs or embellishing lemon rice. One has an inkling of an ideological variance between the restaurant that seeks delicious affordability (vegetarian curries from Rs 250) and a chef who envisages grand gastronomy (his contemporised Tamil cuisine won a medal in Mumbai). Alas, you can't have diamonds for the price of white sapphires...
But you can have sterling service courtesy of Kamal, Manohari and team. Staff actually know the names of dishes and can even pronounce them, unlike at certain glitzier hotels. Indeed, when I recommended the Galadari's service at one such, the reaction was "The Galadari?!!"
To finish: "South Indian" coffee is indifferent; masala chai is marvellous, under chef's supervision. Cool off over spice-speckled kulfi cascaded in firm, fresh pistachios and almonds. Certainly Colombo's best kulfi. Ras gulla and carrot halwa can be perilous (the local pastry kitchen has a penchant for Milkmaid). I don't hazard payasam, although Chef Frank prepares it himself assuring, "A sweet shouldn't be too sweet, but have just enough sugar and leave you wanting more." Aye!
Incidentally, the restaurant captures the flavour of our age. Flavors (the "u" economised in these cost-cutting times?) spelled American-style reflects that the British Empire ceded to American super-powerdom. More fascinatingly, today's Indian restaurant Flavors stands over the former Chinese restaurant Chopstix. Perhaps a taste of what the stars are cooking up as the Devas and the Dragon battle it out for global dominion- not least gastronomic!
BBQ Terrace (Taj Samudra): Last year I asked why the Taj didn't have BBQs by their fetching poolside. This year, the new GM has gone a notch higher bringing BBQs over the poolside. Lofty lawns with a central pavilion, peripheral BBQ shack, and scattered marquees laze in a luxury of elegant garden swings, benches and manicured mini bushes. Here and there is the dance of flaming lamps. And all around you Colombo's towering high-rise buildings loom like lasers.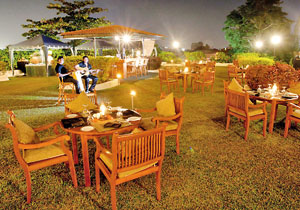 BBQ with a view at the Taj
But soon, as the grill glows, sizzling curtains of smoke envelope diners from the prying eyes of lit facades. What a spectacular elevated al fresco gourmet garden. For the BBQs are "gourmet." Why? Mr Jesmin from F&B says -rather than for any terrific technical innovation- because they offer Australian beef fillet, rib eye steak, sirloin and lamb chop which generally belong in fine dining restaurants. He scrolls over the menu's variety encompassing seafood including lobster, king prawns, crab, cuttle fish, baby seer etc. Copious seafood, Meat and Mixed platters feed greed. Fresh oyster seems misplaced on a BBQ menu. But I'm reminded that this is a gourmet BBQ terrace and chi chi is the norm. Indeed they have taken BBQ to higher level, if not quite physically yet. The weather being whimsical, the terrace is temporarily grounded by the poolside. But tables dotted around a simmering fountain almost recreate an Italian piazza.
Presently it is the tourist palate catered for with continental BBQs. However, Mr Jesmin is emphatic that every palate can be pampered and signature preparations to entice locals include Lankan-style chilli crab, spiced garoupa and tandoori marinated lagoon prawns. Vegetarians are spared intimidation by excessive choice, restricted to succulent slabs of cottage cheese skewered into paneer kebab and grilled vegetables in katti kebab. Vegetable brochette again seems curious on a BBQ menu- unless, of course, it be a gourmet BBQ menu. No barbequed brownie, though... But bolstering the BBQ is a buffet of soups, salads, breads, rice and desserts. As brisk breezes buffet the BBQ and the hot crowd soars expect a temperamental terrace that blows hot, blows cold!
Sambolaya: Quite simply, and in Sinhala, the board announces. It arrests. The gall, on Galle Road, Colombo's busiest track, to set up a countrified "kade"! Step out of hot traffic hell into this utterly charming rustic haven. Owner Kumar De Silva is a US-qualified flight trainer and his wife Pubudu worked on Sri Lankan Airlines.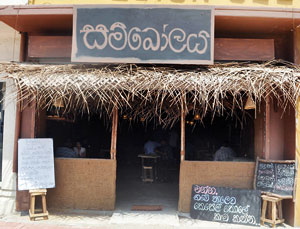 Sambolaya: Rustic haven amidst the hustle and bustle of the city
But they preferred life in the culinary plane. Down to earth they've remained with four ethnic cuisine eateries including Claypot-O-Curry at Crescat Food Court, but the latest launch (just two weeks old) betokens flights of fancy. Mud and rope walls uphold a thatched roof resting on a criss-cross of branches from which cane sieves-turned-lamps hang. Old earthen pots brood on wooden planks over rustic wooden tables and stools. Even the soap plate by a basic cement sink comprises two tacked wooden pieces. And for this extraordinary ambience crowds boil outside queuing for tables or takeaways. What a take-off!
Mr. Kumar, who has a cookery programme on Rupavahini, currently serves breakfast and lunch. Packets of kiribath, hunu sahal, string hoppers and rice make up the morning medley. At noon, in pretty pink baskets, banana leaves held imaginatively together with tooth picks open up arrangements of rice and curry, lamprais, fried rice or biriyani, always served with pearly kiri samba and super sambol. Lovely Lankan lunches still lure trendy youngsters one would expect perched at a posh cafe with a sandwich pinched between painted fingers. And after the hottest helping at the coolest new lunch venue, many a smart office-goer is seen loosening the collared knot...