Mozart on a warm, still October night. Not a hint of a breeze to stir a leaf. The three-quarter moon is hidden by a bamboo grove and coconut trees filling a garden that faces an ornately pillared, white-painted patio. A white mixed-breed dog weaves its way between a scattering of antique sandalwood chairs before flopping in exhaustion under an ebony table. It is a scene in black and white.
The Mozart is muffled, coming from behind doors. It is multi-layered – four layers, to be exact: four levels of sound woven together by four adept hands moving in musical agreement.
(Watching the musicians at their black uprights, black hair swaying above the black-and-white keyboards, their gaze on the black-and-white rococo figurations of a printed score, one is tempted to see the scene in strictly pictorial terms, a study that can carry a title such as, "Composition in Ebony and Ivory.")
The music is Mozart's only work for two pianos, the Sonata in D, K448, of 1781. This is not a description of an evening on the verandah of a walauwe on the southwest coast, with an old recording emanating from a scratchy 78-rpm record player. The scene is, in fact, set in the heart of the city, in a highly residential part of Colombo.
We are at the home of musician Ramya de Livera-Perera, whose tucked-away property in Rosmead Place also houses her music studio, where she teaches and practises. Tonight she is rehearsing for her Wednesday concert, a two-piano recital with her music colleague, Soundarie David Rodrigo.
There is a break in the music. We hear the musicians' voices in discussion. A trill is tried out, fast at first, then at a fractionally slower speed; the voices seem in agreement, the music resumes.
The sonata done, the two musicians step out of the studio and on to the patio. It is refreshment time. Bowls of thick, steaming vegetable soup and a crystal-glinting tray of drinks are brought out. We sit at a table whose black top is a sheet of ebony with carved-out lotus flowers. (The white terrazzo tiled floor below shows in the gaps between the flowers and the leaves – another black and white composition.)
The conversation is largely about the music.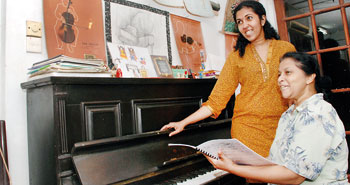 Ramya de Livera-Perera and Soundarie David Rodrigo (standing) will give a two-piano recital on Wednesday at the Lionel Wendt. Concert proceeds will go to charity. Pic by M. D. Nissanka
"This is the first time we are playing these works in public," says Mrs. de Livera-Perera. "We have given six two-piano recitals so far, here and overseas, and we've never repeated a work." The concert programme includes works by Mendelssohn, Granados, Bizet, and Piazzola.
The Bizet is an ornate, contemporary-sounding fantasia on themes from the opera Carmen. (Just weeks earlier we had heard these same melodies in an opera double-bill at the Lionel Wendt.) The Piazzola is titled "Libertango." The excerpts from the full programme played this evening lead us to expect a warmly expressive, full-blooded, concert experience.
The conversation moves to the joys of music making between two people who have enjoyed a long-term music relationship. Mrs. de Livera-Perera and Mrs. David Rodrigo have been playing together for years, first as student and teacher, then as fellow concert artists. "Soundarie may have been my student, but we are on equal terms as musicians," says Mrs. de Livera-Perera. "It is a deeply mutually respectful music partnership." When Mrs. David Rodrigo addresses her former teacher, she calls her "Aunty."
The two-pianos-in-concert combination has a rich and venerable history in this country. Once upon a time, going back to colonial times, the second piano substituted for the unobtainable orchestra if you wished to play a piano concerto.
This was in the years before the Rupert Wagn Orchestra, the Galle Face Hotel Orchestra, and the Symphony Orchestra of Ceylon. And then there were the duos who played works written expressly for two pianos, or four hands at one keyboard.
These couples played for their own pleasure in the comfort of their homes, and perhaps once in a while ventured out to give a public concert. Names that come to mind include Lionel Wendt and Elmer de Haan; Elmer de Haan and Joseph Gonsaal; Ithalie and Lois Mack; Phyllis Kolberg and Ithalie Mack; Hilda Naidoo and the New Zealand pianist Peter Cooper; Maalinie Jayasinghe-Peiris and Sita Joseph; and latterly Dr. Earle de Fonseka and Professor Valentine Basnayake.
Going over these names reminds Mrs. de Livera-Perera and Mrs. David Rodrigo that they belong to a respected local keyboard tradition. "One thing for sure," Mrs. de Livera-Perera says, " is that we won't stop playing two-piano music. It's great fun."