Though he is based in Sydney, Australia, Bawantha Perera has dedicated years of his life to collecting images from Sri Lanka's past. Over 12,000 people visit his website www.lankapura.com each month to comb through the archive that contains paintings, photographs, maps and sketches dating from the early 1850s to the late 1970s. His ambition is to ultimately create the largest collection of Sri Lankan vintage images online.
Hailing from Homagama, Bawantha schooled at Royal College, Colombo before leaving to study Business and Marketing in Australia in the late 1990s. By early 2002 he had begun his own website and says he was increasingly interested in web technologies. Simultaneously, he was also collecting what he describes as "vintage stuff" – he would trawl through sites like Ebay, looking for photographs, old postcards, stamps and currency.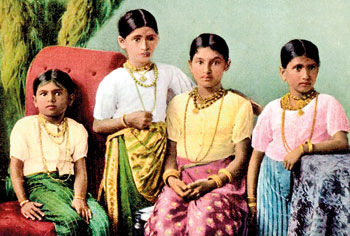 Four Kandyan girls. Ceylon
It was in 2003 that Bawantha unearthed his first treasure trove. He managed to purchase a collection of 500+ old Sri Lankan photographs and postcards for $250 from an ex-RAF man who had been stationed in Sri Lanka in the 1940s. "Some of the photographs in this collection were in bad shape, most of them were damaged and in varied conditions, so I decided to scan them all and restore the damaged photographs one by one," Bawantha says in an email, explaining that the process took nearly six months.
Gradually, he would add rare bank notes, black and white photographs, negatives and slides, maps, sketches, more old postcards and even vintage books and videos to his collection. Despite the high entertainment value of the latter, it is the maps that are the true rarities, says Bawantha, explaining that they are both expensive and hard to acquire.
Encouraged by his wife Hasangi and propelled by a desire to share his finds with the world, Bawantha decided to put the whole collection online. "So I started Lankapura in the end of 2005 as an experiment...Then it became my favourite hobby and a career changer," he says.
Launching Lankapura had turned out to be a milestone for him. He had done so without any programming or coding knowledge in the hope that he could master web design. He soon found that the move wasn't without its challenges but confesses: "this was a turning point for my career because I decided to study web design/development further." (After having studied web development and search engine optimization, Bawantha is now studying part time for a Bachelor of Computer Science degree.) He currently works as a Search Engine Marketing Analyst/consultant for a company known as Boyd Design and manages around 20 other website projects.
However, Lankapura remains closest to his heart. He pours a great deal of time and effort into it, painstakingly restoring and captioning every image himself. He says he attempts colour correction and reconstruction of damaged photos in order to return them to their original glory. Still to publish a single image can take anywhere between 15 minutes to 2 hours (sometimes more).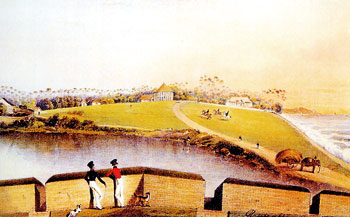 The Galle-Face esplanade from Middleburg counterguard
This time toll is only added to by his determination to ensure every image is well captioned. "There are many other sites with historic images of Sri Lanka, however most of them do not offer in-detail descriptions about the image. I believe that the description (where, who, when, what ….. etc) is vital to enjoy what you see," he says, explaining that this is particularly true of students. However, it can be easier said than done. "It is a challenge to find relevant and accurate information for each image and it takes ages," he says. "Sometimes it's not possible to find content at all."
So far, his bible has been 'Twentieth Century Impressions of Ceylon' by Arnold Wright (1907). Fortunately, he's also found help from some unexpected quarters. Visitors to the site are invited to contribute not only pictures but any information on an image they might have and a surprising number of them do. It's ensured that Bawantha has a huge backlog to deal with. "There are still so many pages unfinished, and nearly 2000 photographs, maps, antique newspaper publication and other images are piled up," he says.
The site also generates a lot of positive feedback and correspondence. "Every day I get emails...asking permission to use images, asking for images to download or simply to say thank you. There's hardly ever negative feedback," he says. Students often write to him asking for permission to use specific images and he provides up to 5 medium resolution images for free, depending of course on the copyright status of the image in question. He's also provided photographs for commercial use, supplying a National Geographic team, a film maker attached to the BBC, university projects and even advertising companies with images from the site in exchange for a small donation. Still, he intends to keep the operation as non-commercial as he can.
This hasn't stopped him from harbouring grand ambitions for the site, however. "My goal is to make it the largest online historic photograph collection of Sri Lanka," he says, adding that his plans for the future include a monthly newsletter, a new system that will allow users to send images as a postcard as well as an easier image upload system for those who would like to make a submission. For Bawantha the website remains a great link to his native country, the place he'll soon be bringing his young son Yonaal to visit for the first time. He hopes to eventually return to the island for good. "If you ask me where I would like to live the rest of my life, I would say Sri Lanka."