It took Mihiri Edussuriya a corkscrewed route to get to where she wanted to be since she was 4 years old. While designing has been an inherent passion, she was shuffled into studying law and management and subsequently following career paths she didn't quite enjoy.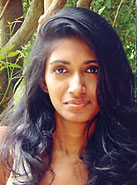 Mihiri Edussuriya
Mihiri like many other Sri Lankans was compelled to fulfil expectations and engage in 'promising' occupations. With fashion designing not as popular as it is today with some help from her family, she decided to risk it all and pursue her passion. The journey has been rewarding to say the least. Mirror Magazine recently had the pleasure of talking to young designer.
Q: Can you tell us a bit about your childhood fascination with sketching and making clothes?
I would finish a sketch book in 2 or 3 days. I'd mostly sketch girls in pretty dresses as opposed to flowers or animals and my father got us a set of stencils that had fashion illustrations and on the back of it was the stencil of a print to colour on the clothes. I was obsessed with that because it had hats, shoes; the works! Also I would cut and chop my clothes including my sisters and mothers. Since I didn't know how to sew when I was 4 they were all fastened with pins. They were all made for dolls.
Q: How old were you when you decided designing was your passion?
I was about 4 or 5 when I got that set of stencils. Thanks to that box I learned how to pronounce "fashion" very early! That's when I knew I wanted to do something with clothes or drawing clothes. My idea of design as a four year old to now has obviously evolved but the childlike excitement is still the same and that's very important for me.
Deviating to other career paths that were completely different has also made me realize my passion for design and appreciate it that much more. It's not something I decided as such. I believe everyone's born with that knowing that's constantly in the back of your head of what you really love to do and what helps you find a balance. And for me design is exactly that.
Q: Can you tell us more about your designs? What makes them unique?
Right now I do client specific one off pieces. So they are as unique as the individual I make them for.But for this specific shoot I revisited my childhood and chopped off some sarees that my mother was throwing away and made Dresses out of them. So I hope this helps you think twice about giving or throwing away any old saree!
Q: Where do you draw your inspiration from?
From My teachers - Late Mr. JC Fernando, Mrs.Rajasingham and Leo. Also my Late grandmother, my sister and Frank. All of whom taught me the most important lessons in life/design, to love and to be free.
Q: You say you prefer designing evening wear. Will you stick to evening wear or branch out into other types of clothes in the future?
I'm planning on branching out into an exclusive retail line which will be for a socialcause. I want to take my time and not rush in to it since a concept in that caliber needs a lot of planning and patience. So till then I'm very happy with making evening wear.
Q: How would you describe yourself?
Descriptions don't fit well on me as I keep discovering new things about "my self"everyday and the description may need altering.
Q: You've mentioned that you've always altered your clothes because you wanted to wear clothes that were unique. Can you tell us about your earlier designs that were interesting and how old you were when you came up with them?
Early twenties when I learned how to sew properly. And I love draping. I would drape a fabric countless times till I was satisfied with the outcome.
I have a secret love for factory reject shops. You get really nice clothes that are thrown away just because a single stitch is out of place and so on. They are so much fun to play around with.
Pix by Harith Gunawardana. Model - NIlu
Once I bought a fabric they were dusting of a print that had gone wrong and even my lecturers asked me where I got the top from.
A skirt that I buy I would wear as a top, dress or even pants if there's enough fabric to drape.
Q: How can people who are interested in your designs get in touch with you?
You can find me on Facebook under Custom Made by Mihiri Edussuriya or e- mail me on midusri@gmail.com.