The beating of drums, the chanting of bera pada and the rhythmic tapping of feet greets us from afar. The hall of the Chitrasena Vajira Dance Foundation is throbbing with excitement in preparation for the much-anticipated restaging of their acclaimed production Dancing for the Gods.
Keeping the tradition of the legendary Chitrasena alive through the generations, this performance will bring the ancient art of the Kohomba Yak Kankariya, a Kandyan dance ritual to "cure afflictions and ward off evil", to a modern audience in the form of an experiment in Kandyan dance.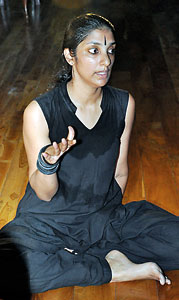 Heshma: Artistic director of the production
Heshma Wignaraja, eldest granddaughter of Chitrasena and Vajira, doyens of dance in this country is the Artistic Director of the production. Combining her "lifelong learning of the traditional dance with her training in modern dance and theatre", she has created an unmatched piece of art. "I have made all changes within the framework of the tradition," said Heshma, emphasizing that Dancing for the Gods is not a "fusion piece". Instead, it seeks to explore the limits of traditional Kandyan dance, while using "modern choreography" to make each piece exciting.
The lead role of the performance will be played by Chitrasena's youngest granddaughter, Thaji. "She has shown her utmost commitment, and dedicated her life to dance," says her aunt, Upeka Chitrasena, with whom Thaji dances in Kuveni's Curse. Heshma has used her creativity to bring two generations of the dancing family together on stage to bring history and legend alive, portraying the emotions felt by Kuveni following her abandonment.
"This is an experimental piece," explains Upeka, describing how only voice and no drums are used in this act. Unlike in traditional Kandyan dance, this act uses facial expressions to convey the conflicting emotions of Kuveni to the audience. This "abstract piece" is woven around Kandyan rhythm patterns and melodies from songs of the Kuveni Asna, adds Heshma.
Music composition is by Pradeep Rathnayaka and the experimental percussions, using unconventional drums like the kala beraya and dik dandu beraya,are done by Prasanna Rupathilaka and his team.
Kandyan dance can stand alone as a classical form and it has so much that is yet to be explored. It is our heritage, adds Heshma.
Dancing for the Gods, described as "an evening of pure Kandyan dance" will be held on the October 8 and 9, with a special performance for Standard Chartered Bank key customers on October 7, at the Lionel Wendt Theatre.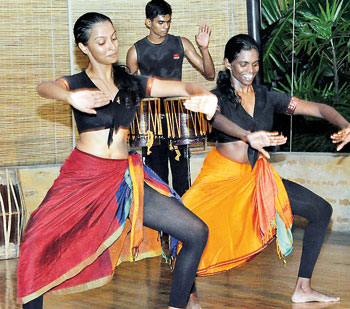 While our cover picture depicts Upeka and Thaji rehearsing Kuveni's Curse, the picture on left shows Thaji and others rehearsing a group item. Pix by Susantha Liyanawatte