Back in 2003, the young artist Chiranthi though her real name is Nayani Gunasekera and fellow artist Pramith (now her husband and primary critic!), came up with the novel idea of selling paintings on Green Path, killing two birds with one stone. Not only were they able to meet the costs of the many projects which were part of the curriculum, they also raised sufficient funds to donate towards the treatment of another student's sick sister.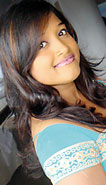 Chiranthi
To avoid the wrath of their teachers, "we did this secretly in the evenings and it caught on, so we continued," Chiranthi explains. The trend they set has avalanched into the daily appearance of artists at the Vihara Mahadevi Park railings but Chiranthi rues the fact that what started out as an ideological dream has become rather too commercial.
Encouraged by her art teacher mother, the young Chiranthi was a prolific painter as a child, and seamlessly progressed to the University of Visual and Performing Arts, where she built herself a solid foundation, also completing a Traditional Arts Diploma at the National Museum. Here, she was lucky to work under the tutelage of that veteran of traditional Sri Lankan painting, S.P. Charles.
"We studied temple paintings and techniques of mixing traditional colours. I wanted to develop a fusion style, traditional and modern rolled into one," smiles Chiranthi, looking far younger than her 32 years.
Graduating with 1st Class Honours in visual communication and graphic design, Chiranthi completed her training as a temporary lecturer at the University. "I'm a freelance artist now," she says, pleased to be independent at last. She is disciplined enough to paint every day. "I have a particular fondness for painting landscapes with houses. Some are places in Sri Lanka, but most simply jump out of my imagination. Bright colours bring happiness and I want my paintings to evoke such a mood in their audience."
Influenced by the works of Vincent van Gogh and Egon Schiele, Chiranthi devised an aerial angle for her multi-layered cityscapes, where the colourful houses seem to shoot out of the ground.
In her attempt to evolve as an artist, Chiranthi tried her hand at a new style whilst preparing for a group show to mark the inauguration of the J.D.A. Perera Gallery at Horton Place early last year, an experience she thoroughly enjoyed. "I would stagnate if I continued with the same style over many years and was thrilled to unveil my recent works at the Kala Pola.
While she has participated in a number of group shows in Sri Lanka, Chiranthi would love to be able to take her art to faraway places too. Her paintings have already made their way to a group show in Australia and a possible exhibition in Sweden is in the pipeline.
Broadening her spiritual horizons with pilgrimages to Lumbini, Bodh Gaya and Varanasi, Chiranthi was particularly impressed by the Indian cave paintings at Ajanta. "It was a childhood dream come true because I'd seen the pictures so often while growing up. I hope to see Australian Aboriginal art which I'd studied in my first year with my own eyes some day," she says, a tad wistfully, talking also of the Egyptian pyramids and prehistoric cave paintings in Altamira and Lascaux.
Chiranthi believes that traditional and modern art are at odds with each other. "We have to alter the next generation's thought process if there is to be any change. There are societal pressures and barriers to our mind-set when we paint. In the old days, people reproduced scenes from ancient stories but Sri Lanka is now emerging culturally, which has affected not only my work, but my life as a whole. It gives me a strong sense of euphoria to be able to paint freely."