SEETHAWAKA -Following environmental conservation methods, the Seethawaka Export Processing Zone, Sri Lanka's international-style industrial park has utilized 96% of its 180-acre developed land to set up factories with local and foreign investment of over Rs. 11 billion.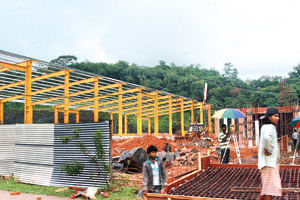 Ceylon Biscuits New Factory coming up at the Zone
Some 28 factories are under commercial operation directly employing 20,000 youth in Avissawella and surrounding areas and it has created around 15,000 indirect employment, said the Director of Seethawaka Export Processing Zone Athula Jayasinghe in an interview with Business Times at the site. The projects, both existing and future ones, are either 100% Sri Lankan owned or joint ventures. Among foreign investors attracted by the Park are those from the UK, Canada, The Netherlands, India, Korea, Hong Kong, France. These industrial ventures manufacture products such as processed minerals, rubber products, wood products, steel products, high value garments, pharmaceuticals, textiles, sewing thread, soft toys, surgical gloves, knitted garments, zip fasteners, rubber products, wooden products, processed minerals, food stuffs, tea, clothing, etc mainly for international markets.
Mr. Jayasinghe disclosed that three new factories will be set up at the zone with an investment of around Rs.1.5 billion. Ceylon Biscuits Limited (CBL) is to open a new manufacturing plant at Seethawaka to cater to the increasing demand of its export market.
He said it will invest around Rs.855 million on this new factory. The construction work of the factory is now underway. Allubond Australasia Private Limited a UAE company will invest Rs. 570 million to set up Aluminum bonded sheets for the export market. A local company Lanmic Export Ltd will build a plant to produce chemicals for paints with an investment of Rs.130 million.
Whilst there was a decline in the arrival of investors to the Seethawaka Industrial Park in the past due to the war situation in the country, the present peaceful atmosphere has brought an air of hope with the increase in investments and the numerous inquiries being made' for reservation of blocks at this industrial park, Mr. Jayasinghe said. The Park has modern infrastructure facilities and also a fully equipped training centre to cater for training needs of the investors. The construction work of a Water Treatment Plant of capacity 9600 cum per day and a Wastewater Treatment Plant of capacity 10,000 cum per day has been completed and all the factories are provided with uninterrupted water supply, he revealed.
This facility is being maintained under public private partnership basis Deputy General Manager Textured Jersey Lanka Private Limited Sajith Wickramaarachchi who is also the President of Seethawaka Industrial Park Manufacturers' Association (SIPMA) told the Business Times that "Textured Jersey Lanka, the country's largest weft knit fabric manufacturer, is a joint collaboration between industry giants, Pacific Textiles Hong Kong and Brandix Lanka. This factory is a good example of how environmentally sustainable practices and good business go hand in hand. Having begun as a small commercial operation producing about 150,000 metres of fabric a month, today, it is a US$ 48 million-investment, with a capacity of 2,500,000 metres per month of finished fabric."
President SIPMA Sajith
Wickramaarachchi

Director of the Zone
Athula Jayasinghe
Textured Jersey factory has one of the world's most modern dye houses, using automated robotised colour control. Physical property tests are also performed on fabrics for colour, quality, and moisture, including shrinkage, light fastness, stability, recovery, skewing. At present, Textured Jersey Lanka caters to all known cotton mixes including poly-cotton, cotton Lycra, model Lycra, viscose cotton and 100% cotton. Single and double jersey, rib, pique and Marl fabrics are also produced he disclosed.
Briefing on some of the factories operating at Seethawaka, Zone Director Mr Jayasinghe noted that Prime Polymers a 100 % export oriented company set up in 1999, as one of the pioneer companies of the Seethawaka Industrial Park in Avissawella is also involved in environmental conservation projects while manufacturing medical and non-medical gloves and high performance industrial gloves for niche markets. Prime Polymers implements a project to generate energy, using gliricedia. The mass energy balanced solvent recovery plant and the newly installed biomass heater are evidence to this commitment. Gliricedia collected from about 900 village divisions in the vicinity are used for the biomass heater. The gliricedia project provides indirect employment opportunities to thousands of low income families in rural areas of Seethawaka, he said.
Lanka Minerals and Chemicals Private Limited factory located nearby is also following strict environmental protection methods. the factory uses specialized system of crushing, classifying and delivering of calcite, dolomite, Kaolin, Talc, Ball Clay which are in demand in a verity of industries utilizing chemicals to produce plants, rubber, PVC, glass, animal feed, ceramics, detergents etc. Though CaCo3 is the major product of the company it has a wide product range such as Sodium hypochlorite, Soap, Disinfections, Cleaning solutions, Dispersions and Emulsions. Kaolinite, Feldspar, Quarts, Ball clay and other products too, to cater to the needs of customers.