With a hope of extending assistance towards rejuvenating tourism in Sri Lanka which has been affected by three decades of war, a Norwegian entrepreneur Roger Tancred Sveen is to offer an innovative solution to attract fun-loving European travellers to the island.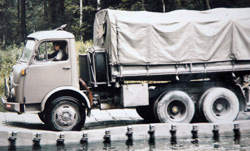 Launching pads for heavy vehicles
Leisure tourists have always been the mainstay of Sri Lanka's tourism industry for whom the sea has been their most treasured love to experience. Roger Sveen, the head of Sveen Lanka International Private Ltd told Business Times that his company will introduce Jet Float recreational platforms enclosed with a net to afford safety to swimmers inside it, presenting a perfect simulated beach on the high seas where users can simply laze under the tropical sun.
These platforms are made of high quality floating docks. These Jet Float platforms can be used as launching pads for Heavy vehicles such as caterpillars, trucks, and even helicopters, he said. All Jet Float modular floating elements are made of Lupolen5261Z, a high quality BASF plastic, and its load capacity is 350 kg per square meter.
Mr Sveen started his business in Sri Lanka by entering the readymade garments industry in 1979. He was in the forefront of local apparel exports to Norway for a long period and his keen business acumen enabled him to launch Import Utsalg Sveen & Co in Oslo. Residing beside the unpolluted waters of the Bolgoda Lake in Piliyandala, he is now ready to cater to the needs of European tourists attracted to beaches and the sea surrounding Sri Lanka. He plans to introduce Jet Float recreational platforms and swimming pools for star class tourist hotels located in coastal areas, in the island.
Mr. Sveen noted that these floating decks can be interconnected together in any desired shape and size without special skills required, as it is very easy to assemble. Jet float has been successfully used in building marine docks, pontoon docks, barges and rowing docks for different purposes without compromising the user's safety.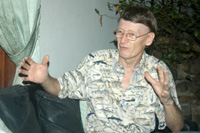 Roger Sveen
Mr. Sveen disclosed that the Colombo Dockyard Limited has been using his company's Jet float pontoon system to facilitate ship repair work in and out of the harbour. The Sri Lanka Ports Authority has the advantage of a Jet Float 90 meter pier for sailing yachts at the Galle Port, providing a facility for 20-globe-trotting sail-boats to berth at a time.
The Sri Lanka Land Reclamation and Development Corporation also uses a Jet Float platform of 120 square meters for Greater Colombo flood control and environment improvement activities. The Coast Conservation Department has installed a Jet Float pier at their Coastal Environmental centre in Madu Ganga in Ambalangoda for their boat service which takes school children and visitors around the lake.