The Colombo Plan will be re-energized by extending its membership to the Middle East and several other countries going beyond the Asia Pacific region. This will ensure that combined resources of these countries are put to effective use in the region, and are shared to meet the needs of member countries, said the Adam Maniku , newly appointed Secretary General of the Colombo Plan in an interview with Business Times this week on the sidelines of a press conference convened by him to brief media on his vision for the organization, policies and strategies during his tenure of office in the next four years.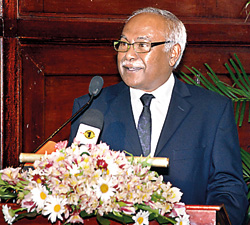 New Secy Gen Adam Maniku
The Colombo Plan launched by seven Commonwealth countries - Australia, Canada, Great Britain, India, New Zealand, Pakistan and Sri Lanka (then Ceylon) in 1951 after 60 years of existence, has now a membership of 26 countries.
"We need to extend our membership to more countries so that we can promote cordiality and cooperation in development and poverty alleviation in more practical terms with all member counties as equal partners", he said. He noted that the Colombo Plan will devise economic and social programmes for member countries attracting funding from foreign donor agencies which is lacking at present.
These donor agencies will definitely provide funds if our programmes bring some returns for their assistance he said adding that his organisation will pursue this strategy during his four year term of office.
Mr Maniku has over 30 years experience as a policy maker and he was the Minister of State for Transport in Maldives under the new government. He also served as the Deputy Minister of Finance of that country for 11 years. He also served as the Alternate Governor at IMF for 27 years.
The Colombo Plan implements permanent and regular training programmes relevant to developing member countries and programmes devised on a project-by-project basis to meet the development needs of the member countries in the areas of social and economic development.
Drug advisory programme aimed at eliminating drug abuse covering both demand and supply reduction. He revealed that he will accord priority to poverty alleviation and environmental conservation activities as well as awareness programmes on global warming and greenhouse effect which will be major challenges to the world in the near future.
The Colombo Plan, no doubt, has made a significant contribution towards the economic and social development of the Asia Pacific Region and it has a role to play in the future too, enhancing the prosperity of the peoples of the region, he concluded.