Q:What is the total biscuit market in Sri Lanka?
Local players entertain approximately 85,000mt to 90,000mt including exports. If you look at the domestic industry there are small timers that add volume to the national consumption.
Q:How is the provincial growth and how does it affect the business?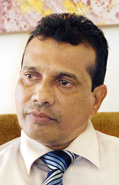 Mr.Ashan Kannangara , General Manager (Sales and Operations) of Maliban Biscuits
Most of the provinces are growing in a larger way. Some parts of the island, provinces are affected by inflation. Some provincial economies are not growing.
But Maliban biscuits grows steadily in these areas regardless of competition. Since the war is over, consumers do have access to most of the outlets. Our business has grown by 20%. We are very happy that consumers have now shifted its focus towards Sri Lanka's biggest consumer brand.
Q:Are you surviving or growing? Definitely growing.
At Maliban biscuits we don't speak about "survival". We don't do business to survive. Then you cannot deliver the consumer promise. We see consumer victory. Those who speak about survival cannot deliver what the CONSUMER wants. They deliver what "THEY" want.
Q:What is the way in which you define a consumer?
Our definition for a consumer is very simple - he is our share holder. We need to create a strong Sri Lanka. People of this country has to be very strong to build the nation. Therefore, we deliver consumer friendly, nourishing food propositions. Others cannot do this. Therefore, you don't have to issue shares via stock exchange, but when you deliver consumer friendly, nutritious products for them to be strong and healthy, what more do you want?
Q:Being the legendary biscuit brand what strategies you used to cater to your consumers?
Highly consumer focused and totally non conventional. This is not "rocket science" . This is what our Founder, the great A.G.Hinni Appuhami has told us and this is what our Legendary current Chairman Mr. A.G.R. Samaraweera has showed us and this is what the Director board follows and our great leader the CEO Mr.D.L.Weerasuriya is practicing. And this is what we follow. We practice what we preach.
Q:After all your company is a local entity. How does the government policies effect your operation?
Government policy of increasing local industry production is a very good move. Restricting the imports and allow the national consumption to grow is a fantastic move for national entities.
Q:How do you move with the company vision?
We deliver what we promise. We are a learning, dynamic, evolving and a consumer friendly company.
Q:What are the most promising growth lines?
Cannot say one but to mention a few, the innovation of the decade "Smart Cream Cracker" , Chocolate biscuits, Gold Marie, Vegy crackers, Real Bran crackers, Ginger nuts and Nice biscuits. Our savory range is growing tremendously. If you look at our Real Bran cracker, you can see the competitor also follow us.
Q:Are the industry rivalry effects in a greater way?
No
Q:Who is your main rival?
No one.
Q:How come you make that statement?
As I explained, we are a totally consumer focused company. Our main focused area is "achieve growth" in all aspects. Then the entire company rallies around to deliver consumer orientation. Our core departments Marketing, Sales , Quality Assurance, Production, Engineering , HR, Logistics, Exports, Finance and not forgetting Security department has dynamic individuals that delivers results. Like many "books" says - that you must look after the competition and then do your business its not going to work. One must preach what he can deliver.
Our company does not carry individuals with impractical visions. We carry people with common sense and practical knowledge.
Therefore, we look at consumer first and then deliver what he wants. Not what the competition does and deliver what they do. In this context we don't have rivals.
Q:In the corporate sector Maliban Biscuits has set an image as an evolving company. Your idea?
Yes. We are an evolving company. If you look at Marketing arm of our company, we have turned a new leaf in the industry. The birth of Smart cream cracker is a very good example. Consumers needed a nourishing snack to feel good.
They never needed a biscuit to bust their hunger. We delivered that. Then look at Real Bran crackers. Consumer needed a food proposition to keep healthy. They never needed a therapeutic biscuit. We delivered that. Now others are following us. I categorically state that this credit should definitely pass to the marketing department.
Look at our winning sales force - I declare that we have the best, the most disciplined sales force in Sri Lanka. Their morale is very high and they are winning the retailer by marketing brand - product propositions that are approved by the consumer. This confirms the industry saying or judgment.
Q:Can you share a recent success story which relates to consumer loyalty?
There are many. I will quote an ongoing example. Our marketing team did a consumer research and found that in a blind test that Maliban Gold Marie scores very high due to the milky taste. And consumers did commented about that 95% of the target users give Maliban Gold Marie as a breakfast to their children with love. Since it's enriched with vitamins, it has come right on top of recall as the best option of a Sri Lankan mother. Since it has won the International Taste and Quality award for its superior taste and quality the brand equity is so high among our mothers.
If you look at today's consumer - you can not fool them anymore. They know exactly what to buy and what not to buy. See what the consumer authority is imposing. Bringing new rules encourage us to work better for consumers. Through this we can build higher loyalty among our consumers. Our sales members our not mere numbers - these are numbers that project CONSUMER LOYALTY.
Q:Finally what is the core message for your consumers?
Very simple, short and clear. It is high time for consumers to select the BEST not the REST.