Creative Solutions and Four Corners, which started its operations in 1999 has climbed up the ladder to become one of the leading IT players in the country,mostly due to the innovative use of modern technology to cater to the needs of customers in local and foreign markets.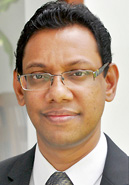 Sushena Ranatunga, Managing Director
Creative Solutions is assisting international companies with software development, maintenance, support, and quality assurance;by providing high quality, cost-effective servicesfrom their state-of-the-art research &development centres in Sri Lanka while Four Corners, specializes in delivering internet based application development services mainly for local clients, said Sushena Ranatunga,Managing Director of both companies in an interview with Sunday Times Free hold section.
Harnessing benefits from the peaceful situation that emerged in Sri Lanka after the ending of a war of three decades, the company Four Corners has developed effective Internet-based application strategies for the Sri Lankan market in a pragmatic manner, he said adding that, "this company is fully service oriented and it has mastered itself in providing services in Web designing, Web development, including Content Managed Websites, Search Engine Optimization, E-commerce applications,Animations and Corporate branding.
Our highly talented and qualified pool of design and development expertshave helped a wide spectrum of business owners get more out of their web applications. It is important to note that most of the key members of Four Corners team carry over 12 years of experience with the company. With our experience, we identify our client needs and then implement tangible, assessable solutions", he said.
Four Corners has provided its services to one of the largest blue chip companies in Sri Lanka. Also it has done a fair amount of work for the government sector, NGOs and several telecommunication providers in Sri Lanka. Together with all the international projects completedFour Corners has delivered around 250 implementations so far. Businesses continue to show faith in Four Corners by requesting them dynamic and diverse requirements, which the company has been able to fulfill through its professional resources.
Four Corners began its operations as a software development organization in the year 1999 and the main focus was outsourced software development. It has now grown to a medium sized software development organization catering to the international market.