Diesel and Motor Engineering PLC (DIMO), which acquired the order for over nine hundred TATA commercial vehicles from the Ministry of Defence under the Indian line of credit for vehicles, delivered the first batch of one hundred and forty vehicles recently.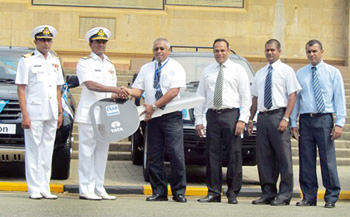 Mr. Gahanath Pandithage, Deputy CEO-DIMO handing over the vehicles to Rear Admiral Mahesh Goonesekera, Director General - Engineering, Captain Vijitha Meddegoda, Mr. Vijitha Bandara, GM - TATA Commercial Vehicles and Mr. Lasantha Jayawardena, Manager - Institutional Sales are also seen in the picture.
They are to be used in the military forces, the Sri Lanka Army, Navy, Air Force and Police as well as the Special Task Force and Coast Guard.
The first batch of vehicles was handed over to the Sri Lanka Navy in an official ceremony held at the Navy Headquarters. The line of vehicles consisted of Recovery Vehicles (SA1212), Water Bowsers (LPTA4X4 1413), Single Cabs (207 DI EX), Double Cabs (Xenon 4X4), 10 Wheeler Trucks (LPT2516), Troop Carriers (LPT909), Medium Trucks (SE1613), 28 Seat Buses (LP713), Super Luxury Coaches (LPO1512) and Winger Vans from TATA Motors Limited.
TATA vehicles have been linked with the defence and military arrangements in the country for years, with them being used in many vital assignments of the military. Commenting on the venture Mr. Vijitha Bandara, GM - TATA Commercial Vehicles says, "DIMO is proud to play a pivotal role and contribute to the defence and military logistics of the country. We're pleased that the government is recognizing our vehicles since TATA vehicles have been used in pre and post war times, it is very rewarding for us as a company."
DIMO as the sole distributor in Sri Lanka for sales, spare parts and service of TATA commercial and passenger vehicles has maintained an immensely successful partnership with the company for over five decades. TATA Motors Limited is India's largest automobile company, with consolidated revenues of USD 27 billion in 2010/11. It is the leader in commercial vehicles in each segment, and among the top three in passenger vehicles with winning products in the compact, midsize car and utility vehicle segments.