Paddy farmer A. Karunadasa, 52, looks a lot older than his years, as he lies in his bed at the Padaviya Base Hospital. Farming has been the livelihood for this father of three, whose home is the sleepy village of Boralu Kande, Padaviya, in the Anuradhapura district.
| | |
| --- | --- |
| | |
| Dr. Chintaka Wijewardena | Dr. I. G. P. D. Ratnasena, District Medical Officer, Padaviya Hospital |
One day, 15 years ago, while tilling his field, Mr. Karunadasa felt numb in his legs. Using medicine from a local medical practitioner, he thought his problem was over, but in fact his condition became worse.
He went to the Padaviya Hospital, where a urine and blood test revealed that he had an acute renal problem. His kidneys were packing up.
Mr. Karunadasa is among hundreds of farmers suffering from a serious and mysterious malady.
The mystery deepens as a controversy rages over whether there is excessive arsenic in agro-chemicals, and whether these chemicals that have polluted waterways and wells, resulting in a high incidence of kidney disease in the North Central Province.
Patients in the first stages of kidney disease receive basic treatment at the hospital, and if their condition deteriorates, and they require dialysis or a kidney transplant, they are sent to the Anuradhapura General Hospital.
The "arsenic theory" is the latest in a series of explanations offered to explain the condition known as Chronic Kidney Disease of Unknown Origin, or CKDU, which has for years afflicted the largely farming communities in the province.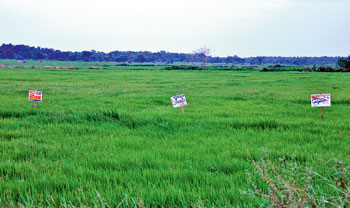 Agro-chemical companies advertise from the paddy fields. Pix by Lakshman Gunatilleke
Earier research linked CKDU to doses of cadmium in the soil and the consumption of freshwater fish taken from polluted waters, but recent finds point to the extensive use of agro-chemicals, which have polluted waterways. The new findings have left the farming community feeling helpless and confused, but also unable to break their heavy dependence on agro-chemicals.
"I believe agro-chemicals have caused our kidney problems, but we are dependent on these chemicals," said K. A. Sumathipala, who has farmed the land in Sripura. This area too has been identified as having a high CKDU presence.
Dr. Chintaka Wijewardene of the Sripura Divisional Hospital is a member of the team of University of Kelaniya researchers who noted that imported agro-chemicals with arsenic content had mixed with water and converted to calcium arsenate, the cause of kidney diseases. The Government has dismissed the findings.
"I have served here for two-and-a-half years, and in that time I have detected more than 300 kidney disease cases. And the symptoms convince me that arsenic poisoning is the culprit," Dr. Wijewardene told the Sunday Times.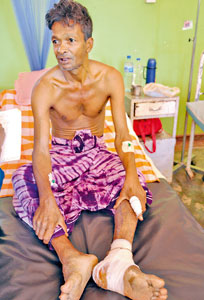 Arsenic poisoning farmer victim Karunadasa lies helpless at Padaviya Base Hospital.
J. A. Ranjith, 42 years, comes regularly to the Sripura Hospital for treatment. His hands and feet show patches Dr. Wijewardena says are marks of arsenic poisoning. Padaviya Hospital District Medical Officer Dr. I. G. P. D. Ratnasena has served in the North Central Province for the past four years, and has first-hand experience of the kidney disease crisis. The hospital has close to 2,000 registered kidney patients. In a bad month, as many as 50 new patients are diagnosed with kidney problems.
Dr. Ratnasena is one medical practitioner who has not fully accepted the arsenic theory. "Some patients have identifiable conditions such as diabetes and high blood pressure that can result in kidney disease, but there are also those who suffer from CKDU," he said. "Research into the problem has been going on for years and no conclusive theory has emerged."
Farmer M. Jayasundera of Sripura, however, is quite sure he is a victim of arsenic poisoning. "I don't know a lot about scientific research, but we farmers do know agro-chemicals can be harmful to humans. But what we can do?"
Mr. Jayasundera blames the big agro-chemical companies for creating a dependency on their products. "These companies have been allowed to dominate the agricultural scene. They decide what agro-chemicals the farmer should use."
When one agro-chemical fails, the farmer turns to another, says farmer K. A. Sumathipala. "If a weedicide doesn't kill weeds, we ask the agro-chemicals retailer what to use next. Over the years, weedicides and pesticides have been getting more and more potent," he said.
Dr. Wijewardena believes the big companies are exerting a disproportionate and unhealthy influence on the farming community. "It's not only the agro-chemicals market they control, but also the seed market. Local seed production has been almost completely killed off. What the farmers are getting are hybrid, imported seed. Under local conditions, imported seed are susceptible to disease and pests, and the farmer has no choice but to keep on using chemicals," he said.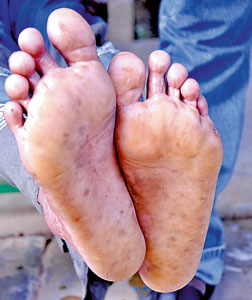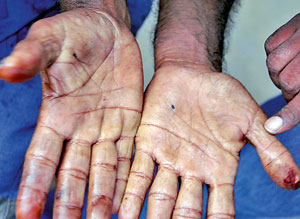 Unmistakable signs of arsenic poisoning show on kidney patient's hands and feet.
Despite dangerous exposure, farmers persist in risky practices, ignoring expert advice on the use of potentially poisonous materials.
The Sunday Times found that these chemicals are easily accessed and that the disposal of bottles and containers carrying chemicals is not properly regulated.
Waterways used for bathing and washing are used to clean chemical sprayers and other utensils, and farmers seldom use protective gear such as face masks and gloves when using chemicals.
"The glass bottles with agro-chemicals are not reusable, so the pattara-bothal collector does not buy them. These bottles are stacked in a corner of the farmer's house or thrown into the nearest waterway," said farmer Sumathipala.
Dr. Anura Wijesekera, Registrar of Pesticides, admits the laws covering the use of agro-chemicals are inadequate, and the law is not enforced rigorously enough. "The present system of agro-chemical use is not satisfactory," he said.
The Government is moving to reinforce the laws covering the use of pesticides. Amendments to the 1980 Control of Pesticides Act will be presented to Parliament shortly, Dr. Wijesekera said. Under the new regulations only qualified person such as pharmacists will be permitted to sell agro-chemicals. The registering of retailers selling agro-chemicals has already begun.
"Retailers will be obliged to display the license issued by us, and restrictions will apply to both the sellers and the buyers," he said.
Meanwhile, the Ministry of Environment and the Central Environment Authority (CEA) are being consulted on the issue of disposing of agro-chemical containers. "We are talking to glass-making companies about recycling these bottles," Dr. Wijesekera said, While the Government moves to check irresponsible dissemination and use of agro-chemicals, the farmers and the North Central Province continue to feel the ill-effects of agro-chemical usage.
"It's not the farmers only who are dying. The earth too is dying," said farmer Sumathipala.
Local seed sown non-chemical way works just as well
In the village of Jayanthi Wewa, in Padaviya, in the Anuradhapura district, farmers are turning to traditional farming methods, using local seed and avoiding agro-chemicals.
Grama Sevaka R. M. Anura Seneviratna is leading the way in the initiative to wean farmers away from dependency on chemical fertiliser use. Ten farmers have cultivated half an acre of paddy land in the traditional way.
"The paddy was sown recently, and we can see good results without the use of pesticides and weedicides," he said.
Dr. Chinthaka Wijewardena of the Sripura Divisional Hospital is also helping the cause by obtaining and distributing seed to the farmers. "The earth has become so polluted and poisoned with agro-chemical use over the years that worms, frogs and reptiles have disappeared.
"These creatures play a vital role in natural soil management. We must act and stop further decay of this soil," Dr. Wijewardena said.
– Additional reporting by Jayantha Pallewela in Sripura