The recent publication of a photograph of a village woman in Kandeketiya, Badulla, breast feeding a deer along with her baby, has prompted a response from a high place.
Minister Nimal Siripala de Silva referred the story to the Mahaweli Authority, and the result is that employees of the Mahaweli Development Authority are getting together to provide the family a new house.
Zonal Manager A.D. de Indrasekera laid the foundation stone for the house, in Rambakanoya. The house will be ready for occupation in two months.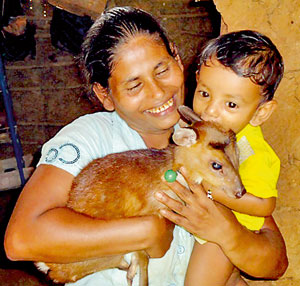 The deer at the heart of one family's life.