The funeral of renowned Tamil scholar Prof. Karthigesu Sivathamby will be held today (10). Prof. Sivathamby passed away at his home in Colombo at the age of 79 on Wednesday.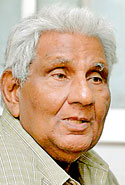 Prof. Sivathamby
Born in Karaveddi in Jaffna in 1932, he did his B.A. (History, Economics and Tamil) and M.A. (Tamil) at the University of Ceylon and received his Ph.D. (Drama in Ancient Tamil Society) from the University of Birmingham in 1970.
After serving as an interpreter in the Parliament of Ceylon, he taught at Zahira College, Colombo, Sri Jayawardenapura and Eastern Universities. He was a visiting professor of Tamil at the University of Madras and at the Institute of International Studies, Chennai.
He was also a visiting fellow at Jawaharlal Nehru University, New Delhi, Tamil University, Thanjavur, and the University of Cambridge. The Professor has authored about 70 books in Tamil and English.
A condolence meeting will be held from noon to 2 p.m. at his residence, and last rituals will be conducted till 3 p.m. Funeral procession will begin from his residence at 23-A, Vanderwert Place, Dehiwala at 4 p.m. and the cremation will take place at Borella Kanatte (Hindu Section).