The Government is to rush a delegation of senior Muslim clerics to Saudi Arabia to secure the release of Rizana Nafik who is facing a public beheading after she was found guilty of killing her employer's child amid reports she is under severe mental stress.
An External Affairs Ministry official said they were awaiting clearance from the Saudi authorities for the mission of the delegation comprising senior moulavis from various parts of the country.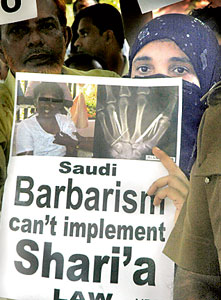 A Muslim woman joins a free-Rizana protest in Colombo on Friday. Pic by Saman Kariyawasam
"This is our last chance to save the girl, after all the previous attempts had failed," the official said.
Meanwhile Dr. Inamullh Masihudeen Naleemi, a former Consul General in Riyadh, has called upon the Government to initiate an appeal process in Saudi Arabia to secure Rizana's release since she was underage at the time she was given the death sentence.
Dr. Naleemi who is a scholar on Sharia laws said an appeal could be made to the Supreme Judicial Council of Saudi Arabia to review the earlier verdict given by the Supreme Court citing article 173 of the legal code.
He said under the Saudi Sharia Law no death penalty could be given to a person below 18 years of age, and the maid was 17 years and two months old at the time of her arrest on May 25, 2005 although she had taken up employment on doctored travel documents that had given a higher age.
"The maid who has been in jail for the past six years is now reportedly suffering from severe mental stress and called for immediate action to be taken about her serious mental condition which might induce her to harm herself," Dr. Naleemi said.
In a related development, Faizer Mackeen Rizana's a trustee of a local mosque said the court must commute the death sentence to imprisonment since the father of the dead infant has already pardoned the maid. "Under the Sharia Law, the father has the sole right to his children, and if he has decided to pardon the maid the court will have to do it.
To do this the consent of the mother is not needed," said Mr. Mackeen who is the Trustee of the Henamulla Jumma mosque in Panadura. He said the authorities must initiate court proceedings as soon as possible as any delay could lead to the maid's execution.
"The defence has a good case. The question is, are the authorities interested?" Mr. Mackeen who is also the Secretary of the Association of Licensed Foreign Employment Agencies (ALFEA) said.
His views were endorsed by Dr. M. G. M. S. Zurfick with Falcon International who said if the father had pardoned the maid then the death sentence could be commuted.
He said he had also written to Sheikh Mansour the Director General in the Saudi Ministry of Justice explaining the maid's case and her health conditions and sought his intervention to commute her death sentence.