Renuka Mapalagama, 45, a mother of two and an executive at a firm in Colombo, decided to leave office late as she had to pick up her daughter from school at 6.30 p.m. on July 1. Unfortunately, the car that had been pumped with fuel only that morning did not start.
"I panicked at the thought of having to leave my teenage daughter at school after 7 p.m. I called a friend who offered to pick her up. The car was towed to the garage later," Ms. Mapalagama said. The 35 litres of fuel in the car had to be drained while the petrol pump and injector had to be replaced at a cost of Rs. 32,000, she said.
| | | |
| --- | --- | --- |
| | | |
| Renuka Mapalagama | D.J. Wahalathantri | A.L. Wickremasinghe |
She was just one among hundreds of vehicle owners and petrol station managers who suffered losses as a result of low quality petrol being released to the market. The Petroleum Ministry admitted that more than 20,000 metric tons of petrol it had imported were sub-standard though it had earlier denied any connection between the petrol and the breakdown of vehicles.
More than 800 complaints have been recorded, according to the latest reports from the Petroleum Ministry. The sub-standard petrol resulted in engine failure and required replacement of costly pumps and injectors.
Another victim was D.J. Wahalathantri, a retired bank employee from Nawala. He had fuelled up his car three days prior to his daughter's arrival from abroad because they were hoping to travel a lot, but his vehicle gave trouble. "We cleaned the pump and re-filled it with Octane 95," he said adding that he would be producing a receipt for compensation to the Ministry.
"Fortunately, we hired a vehicle to visit Nuwara Eliya. If we had taken our car, the trouble we would have gone through is unimaginable," he said. Petrol is classified according to octane rating – which is the measure of a fuel's burning characteristics. The higher the temperature at which petrol burns (flash point), the higher the Octane number and hence better the quality. If the flash point is low, the petrol can ignite even at a fairly low temperature.
The normal petrol sold at petrol sheds here have an Octane rating of 90 and the super petrol 95. Anything below 90 is sub-standard, said Automobile Association engineer C.L. Liyanasuriya. "If vehicles designed to be run on Octane 95 petrol use substandard petrol, the valve might burn, the engine might backfire and there can be carbon deposits."
This sub-standard petrol can affect any machine that uses petrol, whether they be vehicles, motorcycles, lawn mowers or generators, he added.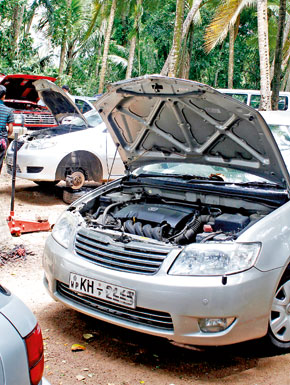 A garage in Nawala attends to vehicles that brokedown due to the use of substandard petrol. Pix by Sanka Vidanagama
Another victim, A.L. Wickremasinghe of Rajagiriya. When his vehicle's petrol pump busted, he decided to get one from a nearby garage instead of an original one. "Replacing a pump will cost about 25,000 rupees. But, it can be done for about Rs. 15,000 at local garages," he said.
But Wickremasinghe won't be able to seek compensation from the Ministry as the garage was not a registered one. Vipula Ratnayake, proprietor of Vipula Motors in Nawala, said, "Last week alone we repaired 15 vehicles. We have started a mobile service as residents mostly complain about starting the engine," he said.
It takes about three to five hours to clean and replace a pump, he said, explaining that vehicle pumps get blocked by carbon residues from low quality petrol.
Supporting Mr. Ratnayake's view Vasanth Jesudasan, owner of Digital and Automobile Technologies in Wattala said sub-standard petrol did not vaporise completely but leaves a strong residue that melts and causes damage to pumps.
"During the past two weeks, we repaired about 20 cars. Of them, four were Mercedes Benz. The majority affected were Nissans and the new Hybrid cars. In the case of Monteros, injectors too had to be replaced. Replacing injectors costs about Rs. 40,000," said Mr. Jesudasan.
He said he recommended his clients use Octane 95 petrol especially for 'C and E' class car owners or use other modes of transport for a few weeks without risking the use of their vehicles, although the ministry had said the Ceylon Petroleum Corporation had started supplying new stocks from June 30.
In the wake of this crisis, spare part sellers are making a profit, Mr. Jesudasan said. The price of a low-quality petrol pump has risen up to Rs. 5,500 from Rs. 3,200. The complete housing of the unit will cost between Rs. 28,000 and Rs. 30,000.
Adding to the woes of vehicle users, petrol station owners too complain about damage to their petrol pumps. "At least 400 petrol stations have been affected," Petroleum Dealers Association secretary Asoka Mallawarachchi said. "Carbon collars inside pumps are heavily damaged and require repairing."
He said the highest number of complaints were from the districts of Colombo, Kandy, Kurunegala and Anuradhapura.
"In the beginning, we got many complaints after authorities put the blame on shed owners. When it was proved that this was due to low quality petrol, members of our association met the Petroleum Minister, who assured that they would be repaired immediately."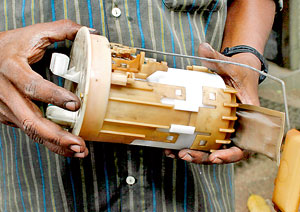 A damaged pump of a vehicle
He said the minister had told the association that spare parts not available in the country would be brought down. Following this assurance a circular has been sent to all members asking for details regarding the damage and the loss incurred, which will be submitted to the ministry and the CPC, he added.
Mr. Mallawarachchi also stressed the need for an independent body to test samples of petrol.Most petrol stations choose Chinese-made pumps over the German ones on the grounds of the cost, said Kapila Wijeyaratne, a petrol station manager in Nugegoda.
"A Chinese pump costs about Rs. 300,000 while a German one is Rs. 600,000. But in this crisis the Chinese pumps have suffered more damage," he said.
Following this debacle, the demand for Octane 95 petrol, which costs Rs 143 per litre, has increased.
"Octane 90 is sold at Rs. 125 per litre. But, now there is a reduction in sales. Now, 1599 to 6554 litres of Octane is sold daily," he said.
Commenting on this situation, Lanka India Oil Corporation (LIOC) Director K. R. Suresh Kumar said, "Usually, five per cent or less use Octane 95 petrol. After this fiasco, more people are opting for Octane 95."
Pointing out that the quality of the petrol that was imported was substandard, he said that the quality of petrol depends on several properties apart from the Octane rating that include the distillation range, sulphur content, vapour pressure and density.
"I am not certain in which property the petrol didn't meet the specifications. It is possible that the product might have failed in one or more," he said. People in the petroleum industry appraise themselves of the requirement, demand and the import through stock review meetings that are conducted every week, he said.
"As soon as a vessel comes here, the sample is tested in the laboratory by Ceylon Petroleum Storage Terminals Limited (CPSTL) before the product is discharged into the market. The product cannot be released without being tested."
The purity of petrol cannot be determined by merely looking at it, according to engineer Mr. Liyanasuriya. The colour of petrol can change, varying from pink or blue to a colourless liquid. The only solution to the prevailing problem is to drain the entire petrol from the vehicle and refill it with new petrol, said the engineer. Fortunately, it won't have a long-term impact on the vehicles.
"It is not advisable to use low quality petrol for vehicles. Like a human being, even a car requires certain amount of nutrition," he added. He also advised vehicle drivers to have their tanks half-filled as there are chances of sediments (which can be from petrol stored in huge tanks) blocking the engines.
'I was not there': Minister washes his hands of oily mess
A committee will be appointed by Ceylon Petroleum Corporation chairman Harry Jayawardena to conduct a survey on the authenticity of complaints and decide on the compensation to those affected, Susil Premjayantha, Minister for Petroleum and Petroleum Resources said.
Speaking to the Sunday Times, Minister Premajayantha said, "The recent incident of sub-standard fuel entering the market is directly a result of irresponsibility of authorities handling purchasing, testing and distribution."
According to him, the controversial purchase was also a result of the Sapugaskanda Oil Refinery being shut down for about 10 days for repairs and the main supplier from India increasing its premium from 3.15 percent to 3.9 percent.
"The repairs at Sapugaskanda resulted in a shortage of about 7000 metric tons of petrol. The rejection of the Indian company's high premium worsened the shortage. The company also delayed a previously ordered stock," he said.
The minister said, he was on a private visit to Italy from June 24 to June 30 when 20,000 metric tons of gasoline had been purchased by the Ceylon Petroleum Corporation (CPC) from a company based in the United Arab Emirates, a company not registered with the CPC.
"Before leaving I heard a few incidents from Passara and Gingathhena relating to the use of low-quality fuel. I ordered an inquiry. But when I arrived, the authorities instead of stopping the supply, had distributed 17,000 to 20,000 metric tons of fuel.
He said that a three-member committee headed by the Secretary to the Ministry of Power and Energy, M.M.C. Ferdinando will look into the procedure from the beginning and submit a report. Other members of the committee include Sapugaskanda Oil Refinery project manager Piyasena Ekanayake and marketing manager of CPC, P. Samarakoon.
Commenting on sending the secretary of the ministry Titus Jayawardena on compulsory leave, Minister Premajayantha said the decision was taken by the Public Administration ministry and he could not comment on it.
At the time the purchase was made, the CPC chairman was out of the country and the secretary to the Ministry was the acting chairman, he said. The minister agreed that the hotline numbers given were not functioning or were continuously busy during the first few days.
"The three telephone numbers were introduced while I was out of the country. I personally got a lot of complaints that the numbers were not working.
He said many of the bodies handling activities from the purchase of fuel to its distribution were facing structural issues with main positions being vacant.
"When it comes to the purchase of fuel a stock review is conducted by a Cabinet Approved Tender Board, purchase and financial transactions by the Ceylon Petroleum Corporation and distribution by the Ceylon Petroleum Storage Terminal Limited. There has to be better coordination among these bodies and they need more qualified personnel.
Commenting on some of the vacant posts at CPC he said, there was no chief executive officer, commercial manager or IT manager. All these were now acting posts. With regard to the UAE company he said not only have payments been suspended but the company would be blacklisted if lab tests proved that the fuel was of sub-standard quality.
"Arrangements will be made through embassies to purchase fuel from government controlled fuel companies in future, to end the monopoly," he said. The minister assures all substandard fuel will be replaced with better quality fuel and repairs on damaged pumps in petrol stations would be accelerated.
When asked from chairman of Ceylon Petroleum Corporation, Harry Jayawardena on the plans to provide relief to the affected, he refused to comment.