It was not just another book launch. True a book with a collection of short stories was being launched last Tuesday. Yet it turned out to be an event with a difference. The short stories were by different writers, some of them amateurs, others known for their writing skills. There were yet others who had tried their hand at poetry. All, however, had contributed their work to the weekly literary supplement, 'Veemansa' in the popular daily 'Lankadeepa'.

Prof. Dissanayake delivering the keynote address
The National Library and Documentation Services Board auditorium was filled to capacity on the occasion. Among those present were at least 18 of the 20 writers whose creations had been selected for the publication.
The interesting feature was that they were from different parts of the country – Nupe, Matara to Maha Bulankulama, Anuradhapura. There were at least five or six females on the list. Age wise most of them were adults.
The selection was no easy task, confessed Prof. Somaratne Balasuriya who had the laborious task of reading through at least 50 short stories a week. He picked one story every week for publication in 'Veemansa'. The process went on week after week. Thousands of short stories filled the filing cabinets in the Lankadeepa editorial office.
Prof. Balasuriya had interesting things to say about the short stories. He noticed a tendency among new writers to copy better-known writers. Many tried to imitate G.B. Senanayake, the renowned short story writer.
Using poetic language, unnecessary descriptions at the beginning of a story, bringing in needless arguments and debates as the story develops, relating the story in the first person and changing midstream were seen as weaknesses.
He stressed that writing in simple language does not necessarily mean that it is a successful creative work. He saw some using their own style quite effectively.
Probing social issues was a positive feature shown by most writers, Prof. Balasuriya said. So was their concern for the sorrowful aspects of life. They saw life as a misery where people suffered a lot.
Valuable advice
Delivering the keynote address, Prof. Wimal Dissanayake (he has been on a whirlwind lecture tour during his three-week stay in Sri Lanka) offered valuable advice to new writers, quoting from his vast experience of over five decades in the field of literature. He picked out a few short story writers from among the better known in the world and analysed their strengths and styles. Among them were Guy de Maupaassant, Leo Tolstoy, Anton Chekhov, James Joyce and Ernest Hemingway whom he considered the best writers.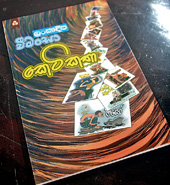 "Study the work of renowned creative writers, but develop your own style," he advised. He singled out Arawwala Nandimitra as one of the most successful Sinhala writers. He appreciated the service rendered by 'Lankadeepa' in providing space every week for the work of new writers, a view echoed by the Head of the Sinhala Department of the Colombo University, Ven. Agalakada Siri Sumaka, who presided over the proceedings. He said that a section of the Sinhala Department's noticeboard displays 'Veemansa' features every week.
Surendra Molagoda from Gallellagama thanked the 'Lankadeepa' on behalf of the writers for the opportunity given to them. "It was a great encouragement," he said.
Gamini Kandepola, co-editor of the publication with Chandrika Wijesundera, appreciated the keenness shown by Dayawansa Jayakody and Company in publishing 'Lankadeepa Veemansa Keti Katha'. A fine gesture by the publishers was the gift packs of the publication presented to the writers.
Well known writer Samudra Wettasinghe (he has just embarked on a new path as an independent publisher) anchored the programme efficiently, chipping in with anecdotes. He referred to how when a student audience was asked who Arawwala Nandimitra was, one answered that he was one of Dutugemunu's 10 giants!
For the audience comprising mainly contemporary writers it was an absorbing evening.