Let me take a deep breath and voice a revolutionary idea: I propose that the first half of every Buddhism class at school be exclusively devoted to meditation. I don't mean one Buddhism class per year, one Buddhism class per month or even one Buddhism class per week - I mean every single Buddhist class throughout a child's schooling. And why would I suggest such a seemingly draconian measure?
Because meditation is fundamental to Buddhism - if we don't do it, we aren't practising Buddhism.
I've spoken to many Sri Lankan Buddhists, particularly young adults, about whether they're good Buddhists. They'll usually nod assuredly and refer to various pieces of evidence. They point to the pirith noola that is tied around their wrist. They note how they go to temple on Poya days and before any important event. They mention the various dhanes that they attend or that are held in their house. They faultlessly recall the various suttas that they had to memorize and comment on for their O'level and the kind bhikkhu who took them for Sunday School.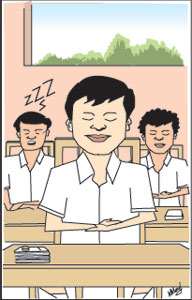 But it is pretty unusual for a young person to meditate. As modern day Buddhists, our attitude to meditation is both odd and somewhat amusing. I am often bemused when I watch the reaction of others who have been told that a young person meditates. The older aunties and uncles express praise intermingled with surprise, "Oh, he meditates? What a good boy! How wonderful!" Meanwhile, his young peers look perplexed wondering whether this boy is saintly, weird or just trying to look good in front of the elders.
This is also reflected by the fact that the earnest practice of Buddhism tends to be exercised by people in their latter years - it is an issue with which many religions, apart from Buddhism, are burdened. The harsh reality is that for many people, religion only becomes relevant when they get lonely, really sick or are approaching death - factors which tend to arise in older age. Then the practice of religion escalates at a frenetic rate.
It's like a badly played fifty-over cricket match where the batsmen have to hit furiously in the last ten overs because not enough was done in the preceding forty.
What is ironic and sad about this approach is that meditation isn't easy when you're older. Although you're just sitting down with your eyes closed or walking slowly, it still requires a lot of concentration and energy. In other words, it is best to start when you have a fit and healthy body. Look at what the Bodhisatta went through - he toiled in the wilderness for six long years to make his discovery. Imagine if he had tried to do that in his sixties? He would have failed. If you throw in arthritis, breathing difficulties, an oversensitive bladder and a declining brain, then effective meditation practice becomes really really hard when you're older.
Is meditation important to Buddhism? Is a bat important to a batsman? Of course it is. Meditation is the effortful mindful concentration that allows the distraction from the five hindrances (panca nivaranani) to be removed. Of course, we'll also need to learn some Buddhist theory, which can be applied to ordinary aspects of our daily life outside meditation. Similarly, all the other stuff we are good at - the pirith noolas, the dhanes, saying gatthas and listening to bana - they are vital activities which we must not stop doing. But at the end of the day, Buddhism is simply about not being born again - nothing less and nothing more. And if you don't meditate, you can't achieve that. That's what the Buddha spent his life trying to tell us. It seems that this message got lost somewhere or at sometime as meditation has taken a back seat to various rituals and traditions.
There is an easy way to bring meditation back to Buddhism, particularly in the young who are most likely to reap its benefits - bring meditation into the classroom. Devote the opening half of every Buddhism class to anapana sati. Just get the children to close their eyes and watch their breathing. How easy is that?
Some pupils might fall asleep while others will play the fool. But if you start this at a young impressionable age (5 or 6 years old), then it is likely that they'll take it seriously. And if this continues into Buddhism classes throughout their education, some of them might enjoy it and start meditating regularly outside school. Irrespective of their own progress in meditation, all these children, when they become adults, will have no doubt whatsoever that meditation and Buddhism are irrevocably intertwined - that will be important to the legacy of Buddhism for future generations. Also, the rewards of regular meditation won't just be spiritual ones.
The effortful mindful concentration that characterizes samadhi meditation will also improve the retention of information and the retrieval of such information from one's memory – useful for any student who has to cope with lots of facts and preparing for exams!
The rest of the lesson should be devoted to Buddhist theory, which, as discussed earlier, will complement the meditation nicely.
The aim of these classes should be to develop:
The nature of consideration of life issues with the Dhamma
Observance of the precepts
The nature of generosity where a student is able to share unconditionally and also receive unconditionally another's generosity
The nature of forgiveness towards others, removing blame and maintaining kindness in every role, relationship and proficiency in life.
There will be some practical issues to overcome. The main one is that samadhi meditation is an evolving process where meditators will encounter various exciting or troubling experiences on their journey. When such issues arise, they will need to turn to an experienced meditator from whom to seek advice in a timely manner. If such advice is not available, then defilements can be exaggerated rather than eradicated and a child might head onto the wrong track. So the first issue to address is how to give these students across the country quick access to experienced meditators.
The most obvious source is bhikkhus from the local temple but many temples may not have the numbers and availability of bhikkhus to provide such a service. An alternative is experienced lay meditators. There is no easy solution to this but an answer must be found for this school meditation program to work.
An important point to reinforce is that this proposal only applies to children from Buddhist families - this should not be forced onto children of other religions. After all, they have their own practices which should be respected and contribute to the richness of the Sri Lankan culture.
In conclusion, meditation needs to be brought back into the fold of Buddhism in Sri Lanka, especially in the young. Making it a mandatory part of every Buddhism class at school is a simple way to achieve this. While there will be challenges in its implementation, it can be overcome with goodwill, determination and the support of the Sangha, the Ministry of Buddha Sasana & Religious Affairs and the Ministry of Education . If this comes to pass, then hopefully one day, instead of expressing surprise that a young person meditates, we'll express shock when we learn that he does not.
(The writer is an Associate Professor of Medicine, The Australian National University)