The Internet can be a nuisance especially when you receive emails from unknown sources on all sorts of subjects. Most of us have got into the habit of deleting them straightaway. On the other hand, you may get very interesting mails. My friend Punchi (Dr. P. G. Punchihewa) has selected some interesting mails he had got and compiled a book in Sinhala – a thoughtful idea since most Sinhala readers may not have access to internet.
Titled 'Hada bendi katha', it is a collection of stories close to one's heart. The book is meant for students in Grades 4 – 13. His objective is to instil the importance of values in young minds.
"The present-day competitive, consumerist, corrupt social environment has resulted in the rapid erosion of values we had cherished from time immemorial," he says. "These trends were seen earlier too. Our history and Buddhist literature show how they were brought back due to the intervention of various forces and individuals."
Punchi quotes the Maha Kanha Jathaka story where God Sakra in the guise of a Veddah and Maatali disguised as a dog came to the human world and guided society on to the correct path. He also shows how Welivita Sri Saranankara Sangharaja Thera in the 18th century and Anagarika Dharmapala in the 20th century were responsible for the resurgence of Sri Lankan society when it was going astray.
He has selected 52 stories which reveal basic weaknesses among us. They provide enough food for thought for both children and adults. Each story has a message which has been presented in a subtle way.
The little tales are a fine mix. Presented under several categories they relate to parents, philosophers, American and Indian presidents and day-to-day life. There is humour in some, sympathy in others. Punchi relates them in a most readable style. The impact is revealing. Those about ignoring and ill-treating parents move the reader to the extent that everyone is bound to wonder whether he or she treats the parents as they should. Particularly, those which highlight the hardships a mother would go though and the sacrifices she would make for the sake of her children.
The book opens with such an absorbing story of a mother who has only one eye. She comes to see her little son in school one day. He feels ashamed, avoids her and runs away. A friend laughs at him that his mother has only one eye. When he gets back home, he asks her never to come to see him.
He prefers her dead than alive. He finishes schooling, goes abroad for higher studies, gets married, becomes rich, buys a house, and brings up a family. The mother has not seen him for years. She turns up at his doorstep one day. The children start laughing at her. He scolds her. "Sorry I have come to the wrong house", she says and goes away.
One day he goes back to the village for a get-together of old boys. He gets an urge to see the small hut where they lived. The neighbours tell him that his mother is dead. She had left a note for him in which she apologises to him for embarrassing him and goes on to mention how he lost one eye when he was small in a motor accident and since she could not bear to see him growing up with only one eye, gave him her eye.
At the end of each story Punchi has five or six questions for the readers to answer – a clever way to get them to remember the message.
By the side of the Diyawanna Oya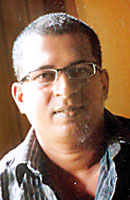 Susil Senanayake
Susil Senanayake's exhibition of paintings will be held at the Lionel Wendt Gallery on June 18 and 19 from 10 a.m. to 7 p.m.
"It was a glorious day in 2006; I was wandering around "Diyawanna Oya" to find a scenic location to make a painting.
After finding one I started my drawing when suddenly, a group of army personnel emerged from a nearby bush. They thought that I was targeting the Parliament," he says.
After explaining to them that his target was not the Parliament but the beauty of the "Diyawanna Oya" Susil was free to do his job.
Painting is what Susil enjoys and working on the Diyawanna Oya he produced a series of distinct paintings, which will be on display.