CGH Visalam: This beautiful heritage hotel, set in Chettinad's UNESCO World Heritage Site, is an epicurean idyll. Visalam's cuisine is presented by 22-year-old wonder boy Chef Ashwin, his equally young team and their "secret weapon," a village lady Pandia Yammal, the only woman in the kitchen. They can shame most three-Michelin-starred chefs with impeccably executed Chettinad dishes.
Breakfast is a poolside banquet of exotica including the daintiest dosas, delicate dumplings, peppered pongals, local pancakes etc, each accompanied by different chutney. The French think they invented multi-course degustations, but Chettinad is fabled for its 23-course banana leaf lunches. Traverse this culinary arrayal in the Visalam kitchen where no cutlery is provided- you eat with the fingers as the Chettiars do. Supper set on fragrant lawns are sensual but dinners can get more dramatic.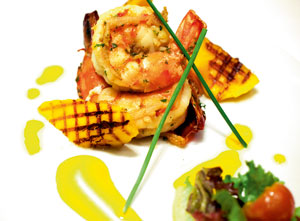 Mango prawn mania
On a sultry evening I am supping on candlelit terraces when a freak thunderstorm bursts forth. But Chef Ashwin dispatches countless courses through lashings of rain as lightning zips the skies and thunder serenades. Chettinadu cuisine is renowned for robust spices. But at Visalam, flavours are delicately equilibrated- no domineering spice punches your palate. Instead, Ashwin ensures a repertoire of subtle, extraordinarily textured delicious undulations.
And he can take any vegetable, say beetroot, and make with it salad, 5 different curries (at least) or even peerless traditional desserts! And the Visalam team can teach self-pompous Michelins-starred chefs about food that is technically perfect with innovative flashes, fancily presented, and yet tasty (not always so at Michelin-starred restaurants). Visalam can also teach 5 star hotels about service, exquisitely efficient without sickening 5-star sycophancy. Conceding 10/10 seems indiscriminate, but how else to describe perfection?
Kudumbam: Boutique hotels are rife. But this new number serving Kerala cuisine is India's first boutique restaurant. A converted Colonial house evocative of a Keralite home, it is replete with Keralite paraphernalia, paintings, art and murals by a renowned contemporary Keralite artist and handpicked antiques including the imperial hand mirror costing Rs 75,000 (vanity is pricy…). Guests can order similar antiques, although it could take three months to source them…
Time is an integral feature of the Kudumbam experience. Indeed, the menu announces that food can take up to 25 minutes to prepare. The endearing manager Letheesh explains, "All dishes are painstakingly prepared according to ancestral recipes using traditional methods and old-fashioned cooking equipment. No short cuts!" The wait is worth it, and shorter if you avoid swarming peak hours. Chill with iced nelli juice (house speciality) whilst waiting for the banana leaf lunch, a quintessentially Kerala-style affair, shorter than its Chettinad counterpart but no less flavourful and fascinating in terms of exclusively-picked, elaborate ingredients and preparation techniques.
For supper, you have outstanding biriyanis, authentically Keralite, hoppers, stews, string hoppers and rarefied pittu. Yes, pittu can be a fine dining food! Savour attention to detail in the consistency of the curries. Desserts are disturbingly fabulous but try homemade jakfruit ice cream. I wonder at the similarity in cooking style and flawlessness between the food at Visalam and Kudumbam. Letheesh sheepishly reveals he "stole the chef from Visalam's sister hotel Coconut Lagoon" because he is so good! Letheesh, himself an accomplished chef, was second-in-command on a luxury liner (cruiser policy was, "Asian chefs cannot be executive chefs…"). He fears that the costs of reviving age-old recipes in the Mac Donalds era will displease his bosses. We hope his bosses realise that timelessness is priceless.
Hilton Chennai: Just-launched and super swank with multiple F&B options. At Vasco, Sunday brunches sprawl with plethoric salads, pizzas (expect the slimmest crusts), extensive Italian, Arabic, Oriental and Japanese counters. However, the Indian fare is staggeringly good with sumptuous home-style, slow-cooked dhals. Leave room for the bewildering dessert display with a superb chocolate pastries. But after a mammoth buffet all you want is the unbelievable homemade dark chocolate ice cream. Six scoops at least! At colonial chic Vintage Lounge overlooking stylish terraces indulge in a unique wine and cheese tasting of international and French cheeses- made locally! After a bottle of Chateau de Rothschild (Rs 450,000) hit zingy Est which offers Chennai's best breads and better-than-in-London sandwiches and the fanciest desserts, pastries and homemade chocolate, including adventurous Chettinad chocolate, all created by young Chef Mukesh, who agrees his chocolate brownie topped with real vanilla ice cream is exceptional for its restraint (not unnecessarily gooey…). That Rothschild wine ensures you cannot count calories…
Mango Mania in Madras: The famous Indian Mango season has begun! And Hilton Chennai has unleashed Mango Mania. Start with thirst-quenching Salethu Manga Charu, (spiced raw mango). Inspired mains play the sweet lushness of mangoes against salty, tangy or unctuous flavours in mango-stuffed chicken Chettinad, Manga Puli Curry (mango & coconut curry and mango apple chutney) served with coconut rice or thyme-marinated prawns, grilled mango and mango caviar. Desserts include mango-mint panacotta, baked mango yoghurt tart, mango mascarpone chocolate cup, mango turn-over… But fresh mango ice cream takes the cake!
Indiyaki (Taj Mount Road): Japanese Tepenyaki is re-incarnated in an Indian avatar at the North-East Frontier speciality restaurant Indus. Sit at an open kitchen, tick ingredients, masalas, spices and curry sauces from the available list and create your own dish which chefs concoct before you and serve up with whiskey(!), the crispest naans (try chilli-olive), rotis, parathas and the celebrated Dal Indus. An intriguing culinary concept. Don't miss!
Tamil Nadu High Tea (Taj Fisherman's Cove): Refreshingly different, when everyone else attempts a travesty of scones in Asia. I had expected idlis, dosas, uttapams, the usual Tamil Nadu specialities and was amazed by lentils sundals, pakoras, pullikodi, juggery muffins etc culminating in the Madras coffee cauldron. I recall once having 9 cups of Madras coffee. Chef Ajay corrects, "We make kapi not coffee"
(Tamil Nadu speak). On beach-lined lawns enjoy copious cups of South Indian coffee, I mean kapi…
CGH Maison Perumal: Another of Visalam's sister hotels, this heritage hotel is famous for its Pondicherry sea food dishes. However, the chef may be persuaded to unleash his Ayurvedic thali. Strictly for those with slender appetites- Ayurveda proportions are austere…
Jungle Hut: When young racing champ Vikram Mathias isn't living life in the fast lane he takes a brake to run this deliciously rustic resort. Vikram's wife Anushree, asked why the homemade food (including their garden produce) is so spectacularly good, says, "Because we have to eat this food too!"