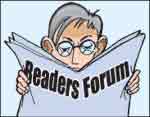 Dear Sir,
I am compelled to write to you to bring to your attention the lack of support for our National Netball Team currently playing a three test series with the Scottish team.
While our cricketers are staying in luxury during their current visit to the UK the girls of our netball team cannot even afford proper accommodation. After coming to Aberdeen by coach from Glasgow (a three hour journey) to play an evening match they travelled back to Glasgow because the accommodation there was £ 3.00 a day cheaper per person!
When a few of us contacted the Team Manager to see how we could be of assistance during their visit to Aberdeen, she said it would be good if we provided them lunch because they were on a tight budget, which we duly did.
This netball team, I am told have qualified to attend the World Netball Championships in July this year has great potential and good ethnic diversity.
Few of us in Aberdeen are determined to support them and hope they will receive the same enthusiastic support from the folks back home.
Arumadura Harith Kulasinghe, United Kingdom.