A group of fishermen from Sri Lanka who were in a Tamil Nadu jail for allegedly poaching in Indian waters, wore the same clothes for over a whole year and had no visits from Colombo's diplomats based in the Deputy High Commissioner's office in New Delhi.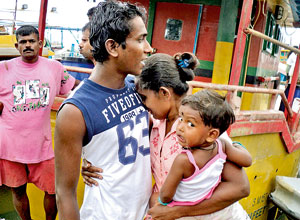 Tearful reunion: One of the fisherman being greeted by his family
"We had a meal only once in two days. We were forced to wear the same clothes for days and months until a year ended," T.M. Jude Rasika (28) of Beruwala, one of the fishermen, told the Sunday Times. He was one of four fishermen who were released by the Indian authorities on February 14.
"We would think of our families. When emotions ran high, we would bang our heads against the wall," Rasika said of his ordeal in a prison in the South Indian state of Kerala. He said, he and his colleagues had left Sri Lankan shores on December 29, 2009.
Another fisherman, W. Indika Thushara (21) would receive periodically, Indian Rs 300 worth of food items, toothpaste and mosquito coils. "We have meals every other day, in a bid to stretch our stocks. The meals were rice and ash plantain curry which we had to cook," he said. He said, be begged for five rupees from an Indian national and telephoned the Deputy High Commissioner's office.
"Other than asking us who we were, no one came to see us," said Chaminda Lal Premasiri (23). The fourth fisherman Dulip Suranga Samarasinghe (24) said that many of the letters they wrote to their loved ones in Sri Lanka were not sent by the prison authorities.