The journey along the dusty, pot-hole-ridden road to Jaffna takes more than eleven hours from Colombo--the drive slowing down considerably shortly after passing Vavuniya. The surface of this stretch worn out by heavy vehicles has turned worse after the recent torrential rains.
The increase in travel time due to bad road conditions has rendered less the number of domestic tourists to the Peninsula. There were only a few hundreds a day compared to the thousands last year. An average of 1000 travellers who went by luxury buses that ply the route, too have lessened. The long line of vehicles awaiting clearance at the military entry-exit point at Omanthai has dwindled.
On a visit last week to several areas in the Jaffna and Kilinochchi districts, accompanied by cameraman Lakshman Gunatillake, we found the scars of the two-year-old bloody war that ended in May 2009 still visible. While the stumps of hundreds of Palmyrah trees that stand sans their tops illustrate the ferocity of the fighting that ensued in the Muhamalai area, the fast growing jungle is covering them up. Yellow security stripes bearing the skull and bones sign with the words "Mines" clearly etched on them still cover several areas reminding us that a lot remains to be done before there is unhindered access to the lands, while bullet-ridden buildings still stand testimony to a violent past.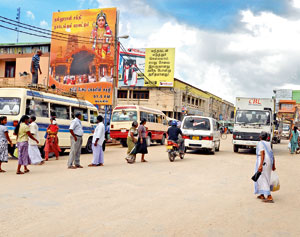 Bustling Jaffna town. Pix by Lakshman Gunatillake
There was a mild resurgence of a tense mood this week. The reason--the funeral of eighty-year-old Velupillai Parvathi Pillai, the mother of slain LTTE leader Velupillai Prabhakaran. She died at the Valvettiturai Hospital on Sunday and her cremation took place at the general cemetery on Wednesday. Although one Tamil Nadu politician, Thol Tirumavalavan, was sent back to Chennai when he arrived at the Bandaranaike International Airport to attend the funeral, a few of his political contemporaries were "present"-- at least their voices were. V. Gopalsamy well known as Vaiko, the General Secretary of the Marumalarchi Dravida Munnetra Kazhagam (MDMK) made a call to a mobile phone which in turn was placed before a microphone.
His speech was aired through loud hailers. Another speaker was TNA Jaffna district MP Suresh Premachandran. Permission to play mourning music, usually played at a Hindu funeral, through loudspeakers, was granted by Police after relevant documentation was completed. However, a request was made to refrain, from publishing on the death notice that the deceased was the mother of the LTTE leader. Plainclothesmen who were present and were initially trailing us , backed away on learning we were from the Sunday Times.
Her body lay at a public ground close to the Velvettiturai town, less than a mile away from her ancestral home. Small crowds, mainly elderly women, came to pay their last respects. Former Tamil National Alliance (TNA) MP M.K.Sivajilingam, a distant relative who spearheaded the funeral arrangements said he had informed Mrs.Parvathi's three children living overseas about her demise but they preferred not to come. "They have some concerns about their security," he said.
The election fever visible in the other districts has not spread in equal proportions to the North. If Jaffna residents showed little interest in politics, there were only a few posters and fewer election meetings.
N.Sivaratnam, a retired Assistant General Manager of the Bank of Ceylon – Jaffna Branch said, "This is a clear sign of apathy towards politicians and politics." However, one issue that weighs heavily on the minds of the nearly 30,000 strong members of the Jaffna fishing community is the poaching in northern waters by Indian fishermen.
Though the issue has gone away, at least for the moment, Indian fishermen poaching in Sri Lankan waters off the Jaffna peninsula is the talking point among civilians. Last Monday, around 200 fishermen and their family members gathered opposite the Indian Consulate on Palaly Road and staged a sit down protest, holding placards and waited patiently to hand over a memorandum to the Indian Consul General in Jaffna, V. Mahalingam. Among them is S.Maria (57) who has brought along her pots and pans to signify the fact that her cooking vessels are now empty and she is unable to feed her family of five from the daily income her husband gets from fishing. "Our fishermen put their lives at risk by going out to sea but if they have to come back with empty nets how can new live?" she asked.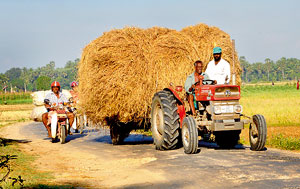 Farmers hopeful of a bumper harvest
S.Sahanayagam (52) from Mathagal was among the Sri Lankan fishermen who surrounded a group of 24 Indian fishermen in seven boats and handed them over to the Police on February 16. A day earlier, at Point Pedro, a group of local fishermen apprehended 112 Tamil Nadu fishermen along with 18 fishing boats and handed them over to the local Police, triggering a diplomatic spat following their remanding by the Jaffna courts.
"We did not use force, but we asked them to accompany us back to the shore after confronting them in our territorial waters. The report that we used force and threatened them with firebombs was false. We are checked before we go out to sea so we cannot carry any unauthorized material," Sahanayagam says.
The Indian fishermen were remanded till February 28 and March 1 respectively but had to be abruptly released on February 18. However, Point Pedro Magistrate Nandasekeran who remanded the 112 fishermen in her order releasing them dropped a bomb shell in open court when she revealed that Jaffna Indian Consul General V. Mahalingam had visited her residence ahead of the fishermen being produced before her and asked that they be not remanded as it would have 'political consequences." She has reported the matter to the Chief Justice as well.
We accompany Julian Selvarajah (53) President of the Gurunagar Fishermen's Union as he goes into the Indian Consulate building to make a verbal representation to the Indian official. While awaiting security clearance to meet Mr. Mahalingam, Selvarajah says that after nearly 30 years, Jaffna fishermen have unimpeded access to the northern seas, but poaching by Indian fishermen is becoming a hindrance to their freedom of movement in the seas.
Attempts at mid-sea diplomacy initiated by the fishermen themselves to pursue their Indian counterparts to stay away from the Sri Lankan waters failed and now they were attempting to get the Indian Government to intervene to settle the thorny issue.
After briefly listening to the representations made by Selvarajah, we ask Mr.Mahalingam how he would respond to the situation, to which the Indian Consul says he would take it up with his High commission in Colombo and with New Delhi too.
When we ask Minister of Traditional Industries and Small Enterprise Development and Jaffna District Parliamentarian Douglas Devananda if he had a hand in getting the Indian fishermen freed prematurely his answer iss evasive. "Solving problems is my role. I don't want to be the cause of problems," he said.
Seated in his room at the old Sridhar cinema hall, now converted to the Eelam People's Democratic Party (EPDP) Jaffna office, on Stanley Road, Mr. Devananda is in the middle of settling a dispute, this time a problem that has cropped up between two sports associations in the district.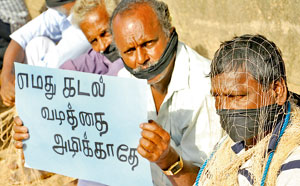 A section of the 200 odd fishermen and their family members who gathered opposite the Indian Consulate on Palaly Road.
After nearly an hour of discussions, he manages to bring about a settlement following which we get our turn to talk to him. The problem of the fishermen is of concern, he says. "When I met (Indian Foreign Secretary) Nirupama Rao when she came here in February this year, I told her this is a very big problem and it can explode at any time.
And that is what happened when the fishermen decided to take the law into their own hands and apprehended the Indian fishermen. For the Jaffna fishermen recovering after nearly 30 years of war, the situation is akin to the man who falls from the tree being gored by a bull."
At a picturesque fishing village in Point Pedro, the northern most tip of the country, Vincent D Paul (73) gazes into the distance as three of his boats prepare to sail off for the night haul of fish in mid sea. He is anxious till they return the next morning. "The intrusion by the Indian trawlers is troubling. We hope it ends soon," he says.
While the fishermen grapple with their issues, people who were resettled recently in many areas in Jaffna and Kilinochchi too are slowly turning their lives around. Sivasami Rajendran (52), a father of three has been running a small boutique in Kilinochchi for the past one and half years. He is disappointed with the assistance that has been given by the state to people resettled in the former war zone. "We expected far more assistance from the authorities but many people have been left to fend for themselves. I feel even if elections are held, there will be little change in our lives," he says.
The lack of interest in politics among people is a clear indication that after years of living in uncertainty, they are still struggling to adapt to a life of normality. Sudha Sharmila (27) lives with her one-and-half-year-old son in a partly constructed house along the A 9 road in Kilinochchi. She lost both her husband and an older child during the last stages of the war and is unsure of what lies ahead. "I depend on the little income my father makes by doing labour work," she says.
There are nearly 10,000 children with a single parent or both parents lost and nearly 29,500 widows in the Jaffna district, the majority as a result of the war. At least 20,000 widows live on a daily income of less than Rs. 1000 a day according to the statistics complied by the Jaffna GA office. Majority of them are beneficiaries of either government assistance or aid provided by Non Governmental Organizations (NGOs).
Resettlement work in the Jaffna district has proceeded at a steady pace with nearly 60 per cent of the areas resettled expect for several areas in Vadamarachchi and Valikaman, according to Government Agent Jaffna Imelda Sukumar. Only 15 Grama Sevak Divisions remain to be resettled excepting the High Security Zones which continue to be a contentious issue for Jaffna residents. Mathagal Fishermen Society president V.Subramanium says he has three houses in the HSZ in the area and is hoping the area will be free for civilians to settle again soon. "We would like to get back to our old homes," he says.
While the government work continues, activities of International Non Government Organizations (INGOs) is being wound down. The International Committee of the Red Cross (ICRC) closed its office in Jaffna after 21 years, last Thursday. Employees at the office were seen dismantling the communication tower and moving their equipment on Tuesday ahead of the closing of their office.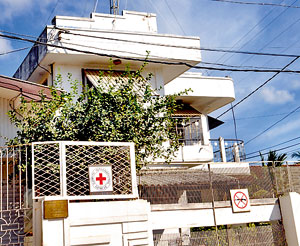 ICRC in Jaffna: Closed its office after 21 years
S.Raveendran is the tea maker at the "thosai" shop near the main Jaffna bus stand. Business here is brisk with an unending line of customers who come into savour northern specialties that are served on banana leaves. "The number of people coming from the south has decreased but we are having brisk business," he says.Elsewhere in the city, buildings neglected for many years are being renovated and several Sinhalese and Muslim traders have returned to cash in on the newly accessible markets in the north.
Among them is W.R.G.Wilson (68), an itinerant trader from Anuradhapura. "I used to frequent these areas before the war but stopped coming due to the security situation. It's been a year since I returned and we are working side by side with other traders without any problems," he said.
The furniture shop opposite Wilson's vegetable stall is manned by Kalan Soorriyar, a northern resident. However, its owner hails from Moratuwa and is doing brisk business with orders running into more than Rs 1.5 million monthly for wooden furniture, mainly from commercial establishments coming up in the area. "I stay here and take orders. The furniture is made in Moratuwa and transported here. Jaffna people like the finish of the furniture," he said.
Many northern residents we spoke to, personify the sprit of resilience which the majority of the people have shown despite the many odds stacked against them. With a good harvest expected -- there are 25,000 acres of paddy land under cultivation - and rapidly expanding tobacco plantations, coupled with many development projects-- this year could see a turn- around in the fortunes of many of the residents after two and half decades of living without being able to work to their full potential.
Jaffna safer than Colombo : DIG
Deputy Inspector General of Police (DIG - Jaffna District) Gamini Amarakoon is on a visit to the Jaffna Police station where we meet him. The station is a hive of activity with the minor complaints unit flooded with people come to lodge complaints which seem trivial given the violent past. Land disputes and family disputes top the list of complaints. "Despite a few incidents during last year when there was some unease in Jaffna, the people have renewed confidence in the Police," says DIG Amarakoon.
In 2009, 21 murders were recorded from the district, 17 of which have been solved. The majority of them, he says, were result of personal disputes. However, this year not a single murder has been recorded so far, he says.
"The usual crimes such as house-breaks-in and robberies do take place but this happens in other parts of the country too. I can say Jaffna is safer than Colombo."
DIG Amarakoon says another indicator that there is no rampant crime in Jaffna was that in spite of 400,000 domestic visitors touring the peninsula in 2010 there were no complaints of major unlawful activities.
"Things are very much normal here. Businesses are flourishing in the town while in the villages agriculture activities are prospering," he adds.
(Additional reporting from Priyantha Hewage)