Students of the Anjali Aham Psycho-logical Counselling Centre in Thumpalai, Point Pedro are practising for their first sports meet since hostilities ended. Many of them have either been orphaned or have lost a single parent due to the war.
Father Soosaipillai Damian, a trained psychologist who runs the centre said the children are enthusiastic about the up coming sports meets and have been engaged in practising at track and field events." Some of them have lost both parents, others have single parent. Most of them are very poor," he said.
In the Jaffna district alone, there are nearly 10,000 children who have lost both parents or a single parent. Around 1,000 children have been disabled -a legacy of the war.
"My staff and I are doing our best to assist these children to overcome the trauma they have suffered as a result of war. Events such as sports meets help towards this end," Fr. Father Damian said.
The Centre is run with assistance from various benefactors who support its activities.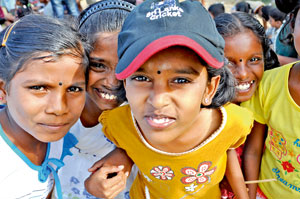 A time to have fun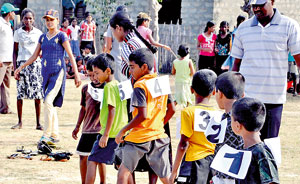 On your marks... get set... The kids are ready to go.