Twenty five vibrant and enthusiastic Little Friends from Colombo, Kandy and Badulla, accompanied by
six Leaders, recently attended the "Centenary Brownie Challenge", an international Brownie camp to celebrate 100 years of World Girl Guiding. The event was held at the University of Malaya in
Kuala Lumpur, Malaysia from 15th to 19th December, 2010 and attracted around 500 Little Friends from Brunei, Malaysia, Maldives, Sri Lanka and Sudan.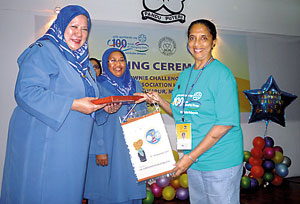 Certificates and souvenirs
This four-day camp was filled with exciting activities and interesting events such as batik painting, Malaysian dancing, jungle trekking, flying fox, international night and inter-active games.
The Little Friends also visited the Kuala Lumpur City Centre where they saw the world famous Petronas Towers against the magnificent backdrop of towering sky scrapers and dazzling city lights. Here, they had the opportunity to appreciate modern architecture and enjoy bargain shopping.
On the third day, the Little Friends also paid a visit to the Prime Minister's House in Putrajaya, Malaysia where they met the wife of the Premier and engaged in conversation, song and dance.
At the 'International Nite', the Little Friends displayed their dancing talents, performing a Sri Lankan folk dance. This was a wonderful experience for the Little Friends where they were able to experience new cultures and build new friendships. It also helped them grow as young leaders, become more
independent, enhance their personality and gain self confidence. Not only did they come back with
wonderful sweets and souvenirs, but they also brought back lots of great memories and exciting new friendships.
One Hundred Voices in Harmony
The Junior Branch (Little Friends) of the Girl Guides Association of Sri Lanka has organised several
programmes island-wide to mark the Centenary Celebration of World Girl Guiding. Accordingly, the Colombo Zone had organised a musical programme titled "Hundred Voices in Harmony" which will
showcase items performed by one hundred Little Friends from numerous packs in the Colombo Zone.
An eclectic selection of Sinhalese, Tamil and English songs have been selected for this performance.
The event has been scheduled for March 5, 2011, commencing at 6 p.m., at Visakha Vidyalaya, Bambalapitiya.
Tickets will be priced at Rs. 500/= , Rs. 300/= and Rs. 200/=, and will be available at the
Girl Guides Headquarters (opposite the Public Library), Visakha Vidyalaya school gate and other participating schools. The programme promises an evening of great entertainment fuelled by the enthusiasm and efforts of the Guiders, Little Friends, parents and other volunteers who have come together to "Lend a Hand" in making the evening a great success.
Share your news with us … Contact us at: Girl Guide Headquarters, 10, Sir Marcus Fernando Mawatha, Colombo 7. Tel: 0112695720 / 0112673558 Fax: 0112695720 email: communications.slgga@gmail.com.