"Wetlands are wastelands.. Wetlands are wastelands.."
a rhythmic phrase found on a piece of paper made Panchi interested. However, her brother – Puncha found this murmuring irritating.
"Stop nangi.. That is wrong.
It should be read as Wetlands are NOT Wastelands," Puncha corrected.
But she wanted to irritate her brother more.
"Wetlands are wastelands..
Wetlands are wastelands."
"NO, WETLANDS ARE NOT WASTELANDS!" Puncha got really annoyed and shouted this time.
Hearing their dispute, Seeya
intervened.
"Well.. Wetlands are infact not wastelands. Look Panchi, you've missed something," Seeya pointed out the missing part of the sentence on the piece of paper to Panchi.
"But Seeya, aren't wetlands just useless lands full of mud..?" Panchi remembered one of her visits to the Attidiya Wetland nearby, where her shoes were ruined by mud.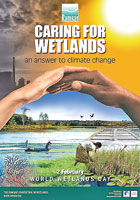 "Well.. Wetlands are areas of land that are covered with water for all or part of the year. They look useless, but wetlands provide lots of silent services," Seeya started to explain the value of the wetlands.
"Wetlands can be thought of as giant sponges. They absorb water from many different sources during wet periods, and release it slowly into the surrounding areas during dry periods. In this way, wetlands can help to reduce flooding, ease the impact of drought and recharge groundwater supplies."
"Do you know wetlands are also called 'nature's kidneys' because they clean water?" Seeya asked the attentive kids.
"One way that wetlands clean water is by filtering out excess nutrients. Nutrients like phosphorus and nitrogen can enter the water system from
agriculture and industrial development which can seriously pollute water, harming the life that depends on it including us."
"Little.. little creatures, plants and friendly bacteria that live in the wetlands can trap, breakdown or absorb these nutrients," Seeya explained. "Wetlands also trap soil that runs off with rain water. This is important because it helps to purify the water, as well as lessen the impact of soil erosion. Water held in wetlands seep slowly back into the groundwater deposits after getting purified and filtered. This process makes sure of a supply of clean water which we get from wells."
"So wetlands are for water as well as water is for wetlands. They are also helpful to face effects of droughts and floods due to Climate Change in future."
"There are lots of birds in the wetlands too Seeya," Puncha
remembered the birds they had seen at Attidiya and how much they had enjoyed the nature. "Yes, not only birds – wetlands are home to lots of animals and plants – Wetlands are indeed hotspots of biodiversity."
"Seeya – what is a Ramsar Wetland..?" Puncha
remembered something he had heard at school at the
World Wetlands Day which was
celebrated on February 2.
"Realizing the value of the wetlands, countries got together at a city called Ramsar in Iran, in 1971 to sign an agreement. These countries agreed to
protect wetlands.The Ramsar Convention this year celebrates 40 years of caring for wetlands."
"The Ramsar Convention also names a global network of wetlands for sustaining people and our
environment. Do you know we have five Ramsar Wetlands in our
country..?" – asked Seeya.
"Yes.. yes.. Kumana is a Ramsar wetland," Panchi remembered what her parents were talking about a few days back. "Yes, the Kumana coastal areas are Sri Lanka's latest Ramsar site. Bundala, Madu Ganga, Anawilundawa and Vankalai are our other Ramsar wetlands."
"Hmm… Aiya it is true. WETLANDS ARE NOT WASTELANDS," Panchi corrected herself. "Yes; Sharing, as well as the wise use of wetlands here and now is very important," Seeya stressed.